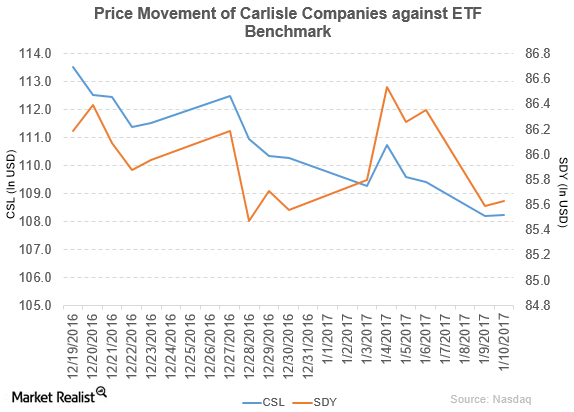 What's the Latest News on Carlisle Companies?
Price movement
Carlisle Companies (CSL) has a market cap of $7.0 billion and rose 0.02% to close at $108.22 per share on January 10, 2017. The stock's weekly, monthly, and YTD (year-to-date) price movements were -0.95%, -5.1%, and -1.9%, respectively, on the same day.
CSL is now trading 3.1% below its 20-day moving average, 2.5% below its 50-day moving average, and 3.5% above its 200-day moving average.
Article continues below advertisement
Latest news on CSL
In a press release, Carlisle reported: "Carlisle Companies Incorporated (CSL) today announced the acquisition of San Jamar…a leading provider of universal dispensing systems and food safety products for foodservice and hygiene applications."
The press release added: "The business will operate as a separate unit within Carlisle FoodService Products, a provider of professional-grade products for the restaurant, healthcare and janitorial sectors, including foodservice permanentware, table coverings, cookware, displayware, catering equipment and meal delivery systems."
Article continues below advertisement
Performance of Carlisle in 3Q16
Carlisle Companies (CSL) reported 3Q16 net sales of $991.0 million—a rise of 1.8% over its net sales of $973.1 million in 3Q15. Sales for the Carlisle Construction Materials, Carlisle Interconnect Technologies, Carlisle Fluid Technologies, and Carlisle FoodService Products segments rose 1.4%, 7.9%, 1.6%, and 1.4%, respectively. Sales for the Carlisle Brake & Friction segment fell 11.5% between 3Q15 and 3Q16. The company's EBIT (earnings before interest and tax) margin narrowed 1,290 basis points.
Its net income and EPS (earnings per share) fell to -$9.8 million and -$0.15, respectively, in 3Q16, as compared to $103.6 million and $1.56, respectively, in 3Q15. It reported adjusted EPS of $1.74 in 3Q16—a rise of 11.5% over 3Q15.
Carlisle Companies's (CSL) cash and cash equivalents fell 13.5%. Its inventories rose 8.4% between 4Q15 and 3Q16.
Projections
Carlisle has made the following projections for fiscal 2016:
net sales growth in the mid-single-digit range
capital expenditure of ~$110 million
Now we'll look at Visteon (VC).