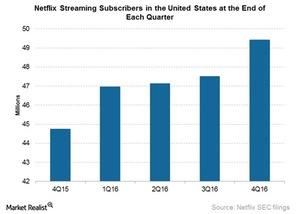 What's Comcast Planning for Its X1 Set-Top Box?
Comcast's integration of Sling TV and Netflix
As Millennials increasingly prefer to watch content online, pay-TV operators such as Comcast (CMCSA) are finding new ways to attract these viewers to pay-TV. Late last year, Comcast (CMCSA) announced the integration of Dish Network's (DISH) Sling TV into its X1 set-top box. As a part of this agreement, all of Sling TV's packages will be part of Comcast's X1 set-top box.
Last year, Comcast also integrated Netflix (NFLX) into its X1 set-top box. Comcast hasn't ruled out the possibility of integrating other products or services.
In its fiscal 4Q16 earnings call, Comcast stated that it intends to offer more content choices to its viewers and will continue to look at other content partners to integrate into its X1 set-top box. It added that, in fiscal 4Q16, its video-on-demand viewing rose ~18%.
Article continues below advertisement
Netflix's reasoning for the integration
At the Goldman Sachs 25th Annual Communacopia Brokers Conference, Netflix stated that an important part of its deal with Comcast would be the convenience it offers consumers. The company added that it's better to integrate OTT (over-the-top) services on the set-top boxes of pay-TV providers, as it would keep pay-TV subscribers in the linear television ecosystem. As indicated by the chart above, Netflix had around 49.4 million domestic streaming subscribers at the end of fiscal 4Q16.