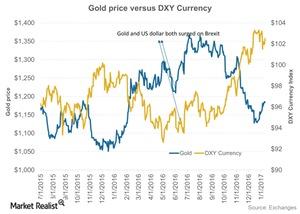 What Trump Has Done to the Dollar—and Gold
By Meera Shawn

Updated
The rise and fall of the US dollar
The US dollar saw an end to its steady rise in January, closing at almost 101.6 on Wednesday, January 11, after reaching its highest level of the day at 103. Meanwhile, the US stock market saw up and down action while Trump gave his first press conference as US President-elect.
It appears that it was Trump's lack of clarity regarding his proposed expansion plan that caused the retreat in the dollar, which was followed directly by a rise in precious metals. The US dollar had surged to its 14-year high after Trump's win. The dollar rose significantly again when the Fed boosted the interest rate on Treasuries in December 2016, because rising interest rates on US Treasuries makes the US dollar more lucrative.
As you can see, the dollar and gold mainly have an inverse relationship. The higher the dollar, the lower the demand for dollar-denominated assets. Optimism in the overall US economy could boost the dollar.
Article continues below advertisement
Correlation between the US dollar and gold
The correlation between gold and the US Dollar Index is -0.36, which means that about 36.0% of the time, gold and the dollar move in opposite directions. Silver's correlation with the US Dollar Index is -0.32.
Changes due to the dollar's movements can be seen in mining funds like the iShares Silver Trust (SLV) and iShares Gold Trust (IAU). These two funds saw massive year-to-date rises alongside precious metals, but they fell in December.
The reversal in metals has also prompted an increase in the shares of Alamos Gold (AGI), First Majestic Silver (AG), B2Gold (BTG), and Silver Wheaton (SLW).