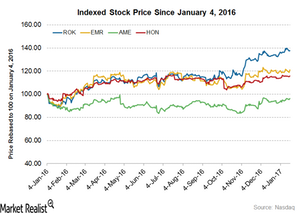 What Factors Could Drive Rockwell Automation Stock in 2017?
By Sheldon Krieger

Updated
Series overview
Rockwell Automation (ROK) is set to announce its fiscal 1Q17 earning results on January 25, 2017, before market hours. In this series, we'll look at analyst expectations for ROK's 1Q17 earnings as well as at the factors that led analysts to arrive at those expectations. We'll also discuss the company's updated earnings guidance for 2017 and the key indicators that investors should consider in the upcoming earnings release.
Article continues below advertisement
Rockwell Automation's 2016 stock performance
Investors who took positions in Rockwell Automation at the beginning of 2016 made 32% on their investments by the end of the year. During the same period, the S&P 500 rose ~11%. Selection bias is inherent in this calculation, as investors who had taken positions on Rockwell Automation five years ago would have received more than 100% in returns over the years. Rockwell Automation is now trading at a trailing PE (price-to-earnings) multiple of 22.0x, which is more than its five-year-average multiple of 18.2x.
Returns for some of Rockwell Automation peers are better than the market (SPY) as well. Emerson Electric (EMR) yielded about 18% in 2016. In the same period, Honeywell International (HON) managed to yield capital gains of 14%. However, AMETEK (AME) lost nearly 8% of its value in 2016.
HON is now trading at a trailing PE multiple of 18.1x, which is lower than its five-year average of 18.9x. Emerson Electric has a PE multiple of 22.1x, as compared to its average five-year multiple of 19.1x.
Driving factors in 2017
According to company filings, ROK expects its 2017 sales and revenues to be marginally above its 2016 levels. The synergies from its strategic acquisitions such as Maverick Technologies, Automation Control Products, and MagneMotion could aid Rockwell Automation's top line growth in 2017.
In 2016, Rockwell Automation derived about 55% of its revenues from the US. An uptick in US industrial production growth on the backdrop of President Trump's infrastructure spending plan could have a positive impact on company's sales in the US.
Now let's discuss how analysts are rating Rockwell Automation.