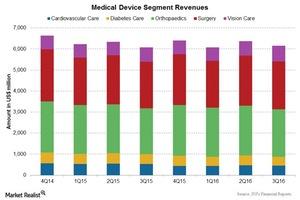 What Does Johnson & Johnson Predict for Its Medical Devices Segment?
Medical devices segment
Johnson & Johnson's (JNJ) medical devices segment deals with vision care, cardiovascular care, specialty surgery, orthopedics, surgical care, and diabetes care.
Article continues below advertisement
Medical devices segment restructuring
The company divested its ortho-clinical diagnostic business to Carlyle Group in June 2014 and its Cordis business to Cardinal Health (CAH) in October 2015. These divestments led to a decrease in overall revenues for the medical devices and diagnostic segment. However, they have improved the profitability of the company.
Existing medical devices business
As discussed earlier, the present medical devices business of Johnson & Johnson deals with various therapeutic areas. It also includes various brands as follows:
Animas: diabetes products
Biosense Webster: advanced cardiac diagnostic, therapeutic, and mapping tools
DePuy Synthes: orthopedic and neurological business
Ethicon: surgical technologies and solutions including sutures, staplers, trocars, and hemostats
Janssen Diagnostics: diagnostic and health IT solutions
JNJ Vision Care: disposable contact lenses and other products
LifeScan: blood glucose monitoring system under OneTouch brand
Mentor business: global aesthetics products including breast implants and facial aesthetics
The expectations from each franchise in the medical devices business in 4Q16 are as follows.
Article continues below advertisement
Cardiovascular care franchise
JNJ's cardiovascular care franchise revenues are estimated to fall in 4Q16, following the impact of the divestiture of the Cordis business to Cardinal Health (CAH). However, the electrophysiology business, specifically the Thermocool smart touch contact force sensing catheter, will drive the operational growth of this franchise during 4Q16.
Diabetes care franchise
Diabetes care franchise revenues are expected to fall due to pricing pressure and competition in self-monitoring blood glucose (or SMBG) devices. However, during 4Q16, the Animas Vibe and SMBG devices revenues are expected to increase, partially due to pricing of SMBG devices.
Article continues below advertisement
Surgery franchise
Surgery franchise revenues are estimated to increase due to higher demand of endocutters, biosurgical, and energy products in advanced surgery, ASP and mentor products in specialty surgery, and sutures and topical adhesives in general surgery.
Orthopedics franchise
With increased demand for the Attune Knee System and TFN Advance Nail in US markets, and other products like Orthovisc and Monovise, the orthopedics franchise revenues are estimated to rise in 4Q16.
Vision care franchise
Vision care franchise revenues are expected to increase following the strong performance of new products in all major markets worldwide.
Investors can consider ETFs like the Vanguard Dividend Appreciation ETF (VIG), which holds 4.1% of its total assets in Johnson & Johnson, 2.9% in Medtronic (MDT), 2.4% in CVS Health (CVS), and ~0.9% in Stryker (SYK).