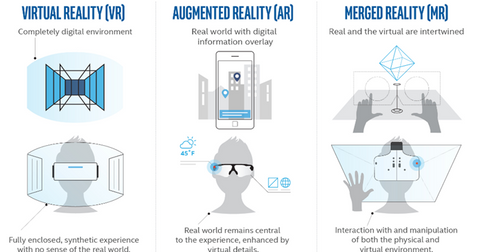 Virtual Reality: The Future of Intel's Internet of Things Group
By Puja Tayal

Updated
Intel's Internet of Things group
In the earlier parts of the series, we looked at the server and compute solutions that Intel (INTC) offers. The device-level solutions will be offered by Intel's IoTG (Internet of Things Group). The group has been growing rapidly. However, this high growth can't push Intel's overall growth, as IoTG accounts for only 5% of its revenue.
To expand in this space, Intel divided its IoTG into two subsegments: the Intel Sports Group and the Intel Go brand. The Intel Sports Group was created in the fall of 2016 after it acquired virtual reality streaming startup Voke. It has also created Intel Go, which focuses on the company's autonomous car project. 
Article continues below advertisement
Project Alloy 
Within IoT, Intel is currently working on an ambitious project, "Alloy," which mixes the benefits of virtual reality and augmented reality to create merged reality. Intel's Project Alloy aims to scan the room in the real world and make real-world objects appear in the virtual world as obstacles. For instance, a couch or a table in the real world would become a physical object on the spacecraft of the virtual game.
The objective is to enable users to move around the room freely while wearing the VR headset. This project aims to bring together several innovations like Intel's RealSense cameras to scan the room, an Intel Atom processor for vision processing, Wi-Fi technology to communicate with the host computer, and the Movidius motion coprocessor.
The preview version of the headset is a little rough and has several shortcomings. It may take some time before this project hits the market. Facebook's (FB) Oculus is also developing similar technology, which is codenamed "Santa Cruz."
Intel Sports group
Intel is looking to take VR to the next level. It has created Intel Sports group, headed by James Carwana. The group aims to introduce immersive video in sports, which would require live streaming. The group wants to enter several partnerships, make several acquisitions, and use Intel's products and services to develop VR sports.
At the CES (Consumer Electronics Show) in 2017, Intel demonstrated this technology, which has two aspects: immersive video and human performance. In an interview with Geekwire, James Carwana explained that immersive video would enable the user to see sports on VR headsets with a 360-degree view. In human performance, Intel looks to help coaches use this technology to train athletes.
Microsoft (MSFT) is looking at providing a similar service with its Surface tablets. Even Twitter (TWTR) and Amazon (AMZN) are looking to develop live-streaming services. Next, we'll look at the other newly created segment, Intel Go.