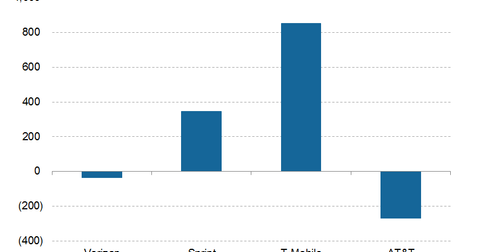 How Will Verizon's Decision to Disable Samsung Note 7 Impact Its Business?
By Ambrish Shah

Updated
Samsung Galaxy Note 7 saga
After several reported battery explosion incidents in August 2016, Samsung (SSNLF) announced a global recall of its Galaxy Note 7, citing a faulty battery cell issue. Samsung, the maker of the faulty device, worked along with carriers to distribute a software update that's intended to automatically disable it. The update should make the Note 7 unable to recharge or connect to wireless networks.
While AT&T (T), T-Mobile (TMUS), and Sprint (S) agreed to distribute the software update to immediately render Note 7 unusable, Verizon Communications (VZ) appeared to resist the move. However, after showing initial reluctance to eliminate the risky Note 7 handset from its network, Verizon rolled out a final update for the Note 7 on January 5, 2017, to save its image.
Article continues below advertisement
Postpaid phone net additions in 3Q16
Verizon's reluctance to disable the Note 7 handset continues, even though it has been losing subscribers. Meanwhile, leading phone carriers are locked in a fierce competition for subscribers.
In 3Q16, for the first time ever, Verizon lost 36,000 net postpaid phone subscribers. AT&T lost 268,000 postpaid phone subscribers, while postpaid phone net additions by Sprint and T-Mobile reached 347,000 and 851,000 respectively—all at the expense of Verizon and AT&T. For Verizon, the subscriber loss might have been even higher, if the company had not announced changes in its overage policy.
Verizon reported that over 7 million of its customers moved to the safe mode plan to avoid overage charges. The company has also allowed users to carry over unused data from month to month.
We should note that the Galaxy Note Series is full of high-end products. The lack of high-end sales is expected to suppress the handset division' s profitability in both 4Q16 and 1Q17—until the new Galaxy S8 is launched.