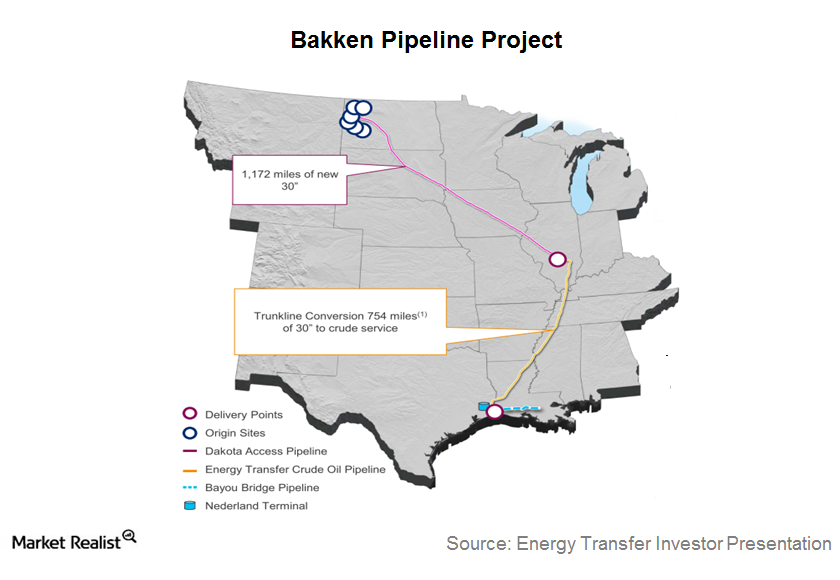 Army Corps to Begin Environmental Study of Energy Transfer's DAPL
By Kurt Gallon

Nov. 20 2020, Updated 2:16 p.m. ET
DAPL update
Energy Transfer Group companies including Energy Transfer Partners (ETP), Sunoco Logistics Partners (SXL), and Energy Transfer Equity (ETE) received another setback on Wednesday, January 18, 2017, after the US Army Corps of Engineers filed a federal register to begin an EIS (Environmental Impact Study) of the DAPL (Dakota Access Pipeline) project. The US Army Corps has also asked for public comments for consideration in preparing the EIS.
According to industry sources, Energy Transfer Partners approached the court to block the study by the Army Corps. However, the district court declined Energy Transfer's request.
Article continues below advertisement
DAPL is part of the $4.8 billion Bakken Pipeline project to move crude oil from the Bakken Shale formation to Gulf Coast refineries. DAPL is a 1,172-mile 30-inch crude oil pipeline that is expected to carry 470,000 barrels per day of oil from the Bakken Shale in North Dakota to refining markets in Illinois.
The Army Corps had denied easement to Energy Transfer in December 2016 to drill under Lake Oahe. It has asked Energy Transfer to reroute the pipeline. However, the company denied the request.
Native Americans and environmental activists have protested against the current route of the DAPL pipeline, as it passes through North Dakota's Lake Oahe. Lake Oahe is a burial site and a major source of drinking water for the Standing Rock Sioux reservation settled along the Missouri River.
Protests have resumed
The US Army Corps's announcement that it would begin the Environmental Impact Study came after the protest against the pipeline had resumed, resulting in more arrests and growing tension. The tribes have remained concerned over the possible reversal of the Army Corps's decision after Donald Trump assumes office. Donald Trump had indicated his support for the pipeline before the announcement of the easement denial by the Army Corps.