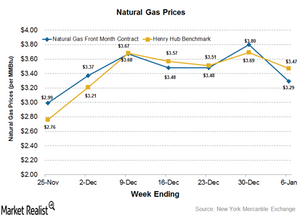 Upbeat Inventory Draw-Down Boosted Natural Gas Spot Prices
By Sheldon Krieger

Updated
Natural gas prices
A mild winter weather forecast for January led Henry Hub natural gas spot prices to tumble nearly 6% during the week ended January 6, 2017. Henry Hub benchmark natural gas prices came in at $3.47 per MMBtu (million British thermal units) for the week ended January 6. This reading compares to $3.69 per MMBtu for the previous week. Also, natural gas futures prices dropped nearly 13% to close at $3.29 per MMBtu during the week.
Article continues below advertisement
However, a change in weather predictions and a higher natural gas inventory drawdown supported natural gas spot prices during the current week. On January 12, 2017, the Henry Hub benchmark natural gas spot prices rose nearly 5% to close at $3.38 per MMBtu compared to the previous day's closing price of $3.22 per MMBtu.
Why are these indicators important?
The shale gas boom across the United States has led to a massive rise in natural gas production. The boom spurred a fall in natural gas prices, and as a result, natural gas became a strong competitor of coal, particularly in 2015. Cleaner, more competitive natural gas has eaten away at the market share of coal in electricity generation, which is a continuing trend.
As we discussed in the first part of this series, natural gas prices and coal's market share in electricity generation are closely related. When natural gas prices rise, coal gains market share because it becomes more economical for utilities to use coal for power generation. On the other hand, a fall in natural gas prices generally leads to a drop in coal's market share.
Impact on coal and utilities
An increase in natural gas prices can have a positive impact on coal producers (KOL) such as Alliance Resource Partners (ARLP) and Natural Resources Partners (NRP).
For utilities (XLU) such as Dynegy (DYN) and NRG Energy (NRG), the impact depends on the level of regulation. For regulated utilities, the impact is generally negligible because the cost of fuel is part of the tariff calculations. On the other hand, unregulated electricity prices are falling due to weak fuel prices, putting pressure on unregulated power producers.
Now let's look at the impact of high crude oil prices on coal producers.