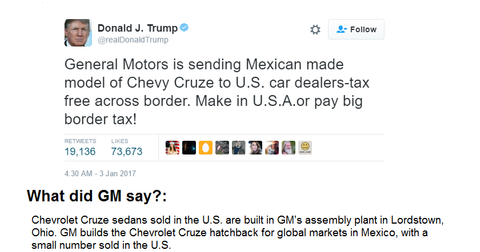 Why Is Trump's Twitter Activity Popular among Auto Investors?
By Jitendra Parashar

Updated
Trump and the auto industry
Article continues below advertisement
Trump's hit list grows
During his campaign, Trump repeatedly targeted Ford (F), the second-largest US automaker, for its announcement on the company's investment plans in Mexico. Since Trump's election as the next US president, his list of targeted automakers has grown.
On January 3, 2017, Trump tweeted that "General Motors is sending Mexican made model of Chevy Cruze to U.S. car dealers-tax free across border. Make in U.S.A. or pay big border tax!"
Later during the day, General Motors (GM) released a press statement. It clarified the issue by saying that all of its Chevrolet Cruze sedans, which are sold in the US market, are built in the US. The company added that only a very small percentage of Chevrolet Cruze hatchbacks, which are built in Mexico, are imported to the US market for sales.
Article continues below advertisement
Tweets about Toyota
On January 5, 2017, in a similar tweet, Trump fired at Japan-based Toyota Motor (TM) for its plans to invest in Mexico plants.
On the same day, Toyota released a press statement saying that "Production volume or employment in the U.S. will not decrease as a result of our new plant in Guanajuato, Mexico announced in April 2015." The company also presented some facts, including that it was "the smallest importer of vehicles from Mexico to the U.S. in 2016." The company helped the US become an export hub by exporting US-made vehicles to 40 countries around the world.
It's important to note that mainstream automakers (XLY) including General Motors, Ford, Toyota, and Fiat Chrysler (FCAU) try to minimize their manufacturing costs on small vehicles. To protect margins, producing small vehicles in Mexico plants has become a popular idea among automakers in the last few years.
After looking at Trump's criticism of automakers and automakers' responses, let's find out how automakers are trying to please the president-elect in their own way.