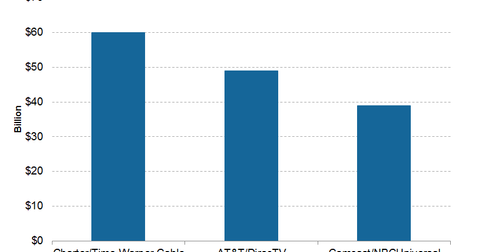 Time Warner: It's NOT Time Warner Cable
By Ambrish Shah

Updated
AT&T to acquire Time Warner
AT&T (T) has announced a definitive agreement to acquire Time Warner (TWX) in a stock-and-cash transaction valued at $107.50 per Time Warner share. The proposed transaction is subject to approval by Time Warner's shareholders, regulatory approvals, and other customary closing conditions.
Jeff Bewkes, Time Warner's CEO, stated that his company doesn't own "any cable, satellite, telephone, broadband or wireless distribution businesses." According to a Wall Street Journal report, "Time Warner has faced an age-old headache of people confusing it with the long-criticized Time Warner Cable, the cable company that it spun off in 2009."
Article continues below advertisement
A peek at past successful deals
Charter (CHTR) acquired Time Warner Cable for ~$60 billion. The US Department of Justice approved the deal in 2016, as it didn't view the scale of the merged company as sufficient enough to tip the market in the way that the Comcast–Time Warner Cable combination would have.
Comcast's (CMCSA) attempt to acquire Time Warner Cable for ~$45 billion failed due to strong regulatory objections. It was believed that the combined company would reduce competition, as the companies directly competed in each other's markets.
The acquisition of satellite TV provider DIRECTV by AT&T for ~$49 billion received regulatory approval after more than a year of review. Through its DIRECTV acquisition, AT&T has become the leading pay-TV player in the United States, with 25.3 million subscribers surpassing Comcast's subscriber base.
Comcast is another company whose acquisition of a 51% stake in NBCUniversal from General Electric (GE) for ~$39 billion was approved by the Federal Communications Commission after a 13-month review. Comcast, a leading cable distributor, wanted to own entertainment and news cable channels.
The AT&T–Time Warner deal will create a vertically integrated company in terms of content and distribution, rather than a horizontal integration of a direct competitor, which would be more problematic from a regulatory standpoint.