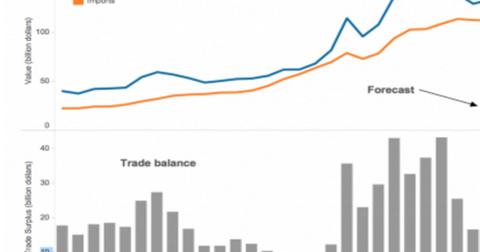 The Story of Supermarket Stocks and Deflation in 2016
By Sonya Bells

Updated
Deflation woes and the grocery sector
2016 turned out to be a tough year for the US grocery sector. Food deflation crimped the top and bottom lines of major grocers like Kroger (KR), Sprouts Farmers Market (SFM), Whole Foods Market (WFM), and Supervalu (SVU). Food prices continued to fall throughout the year, making 2016 the first year since 1967 to witness annual deflation in food prices.
The All Urban Consumers U.S. City Average Index was down 2.2% between December 2015 and November 2016. All Urban Consumers U.S. Cities Average is a subset of the Bureau of Labor Statistics Consumer Price Index and covers major food at home grocery items.
Most severely impacted was the protein category. According to the USDA (United States Department of Agriculture), retail prices for beef, pork, and poultry are expected to end the year with a slide of 6% to 7%, 3% to 4%, and 2% to 3% respectively.
Article continues below advertisement
Reasons behind food deflation in 2016
Strengthening of the US dollar has been the key reason behind declining food prices in 2016. The US dollar, as measured by the AMEX Dollar Index, gained 4% against the group of other major currencies during the year.
A stronger dollar dampened exports while boosting imports, thereby increasing domestic supply. According to the USDA, the US agricultural exports decline is estimated around $1 billion, while imports increased by an estimated $7 billion in 2016.
How does food deflation hit food retailers?
Declining food prices result in a highly promotional environment as food retailers (XRT) try to pass on the cost saving to customers to gain a competitive edge. However, over time as retailers get engaged in a "price deflation war," retail price decline starts to exceed the initial cost saving, thereby hitting the sales and margin of retailers.
Read the next part to see how deflationary and other headwinds impacted the financial performance of major supermarkets in 2016.