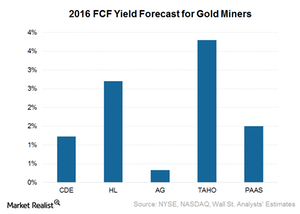 Technical Indicators in Silver: An Oversold Position in 2017?
By Anuradha Garg

Updated
Moving averages
Traders and investors also look at moving averages while making market entry or exit decisions. Usually, if a stock is trading below its 20-day or 50-day moving average, it's an indication that the stock is oversold. Similarly, if a stock is trading much higher than its 20-day or 50-day moving average, it indicates an overbought position.
In this part of our series, we'll see what the technical trend says for silver miners.
Article continues below advertisement
Silver miners' moving averages
The table above shows the moving averages, forward target prices, and returns of five silver miners. All silver miners are currently trading below their respective 50-day moving averages and 20-day moving averages.
Coeur Mining (CDE), Hecla Mining (HL), and Pan American Silver (PAAS) are trading 3.3, 7.9%, and 2.6%, respectively, below their 50-day moving averages.
Relative strength index
As the RSI (relative strength index) approaches the 70 level, it means that the asset may be getting overvalued and is a good candidate for a fall in prices. Likewise, if the RSI approaches 30, it's an indication that the asset may be oversold and will likely become undervalued.
Based on January 3, 2017, closing prices, most silver miners are trading very close to their oversold positions. HL, PAAS, and AG have 14-day RSIs of 38, 42, and 43, respectively.
Although technical indicators mean there could be a short-term bounce back, investors should note that markets can remain overbought or oversold for extended periods. Silver prices have risen since the beginning of 2016, and this trend has led to more leveraged names such as Coeur and Hecla to outperform the silver miners' index (SIL).
The current oversold situation is also apparent in the iShares Silver Trust (SLV). SLV is trading 4.1% below its 50-day moving average.
Now that we have looked at the technical parameters for silver miners, let's next look at silver's fundamental valuations and see if there is a potential upside or downside.