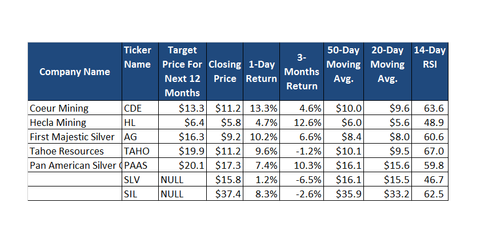 What Do Coeur Mining's Technical Indicators Point To?
By Anuradha Garg

Updated
Technical indicators
Earlier, we analyzed Coeur Mining's (CDE) business fundamentals and analyst expectations. We saw that the company's operating environment has improved due to higher gold (GLD) and silver (SLV) prices in 2016, which have again started showing signs of weakness.
In this part of the series, we'll see what the technical indicators point to for Coeur Mining and its peers.
Article continues below advertisement
Oversold or overbought?
Traders and investors look at moving averages when deciding whether to enter or exit markets. Usually, if a stock is trading below its 20-day or 50-day moving averages, it's an indication that the stock is oversold. Similarly, if a stock is trading much higher than its 20-day or 50-day moving averages, it indicates an overbought position. Coeur Mining and its closest peers are currently trading below their 20-day and 50-day moving averages.
Coeur is trading 12.0% above its 20-day and 17.0% above its 50-day moving averages. Pan American Silver (PAAS), First Majestic Silver (AG), and Tahoe Resources (TAHO) are trading 7.0%, 10.0%, and 11.0%, respectively, above their 50-day moving averages.
The above table shows the moving averages, forward target prices, and returns of the four major silver and gold producers.
Relative strength index
As the RSI (relative strength index) approaches 70, assets may be overvalued, and we could see a fall in prices. If the RSI approaches 30, it shows that an asset may be oversold and could become undervalued.
Based on its January 5, 2017, closing price, Coeur Mining is trading at an RSI of 64. Based on technical indicators, there might not be any major price action either to the upside or downside of the stock.
The iShares Silver Trust (SLV), which tracks silver prices, is trading 2.0% below its 50-day moving average.