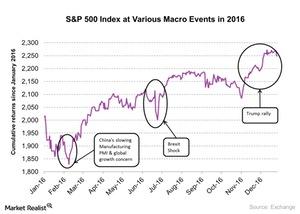 How Did the S&P 500 Index Perform in 2016?
By Sarah Sands

Updated
Various macroeconomic factors
Various macroeconomic factors played major roles in 2016. China's slowing manufacturing PMI (purchasing managers' index), the United Kingdom's Brexit decision, the US election, and the Federal Reserve's interest rate hike were the prominent events that affected the market's movements in the year.
In January 2016, China's (FXI) (MCHI) slowing manufacturing PMI increased concerns about a slowdown in economic activity. It spooked the global markets, which anticipated a further slowdown in the global economy (ACWI).
In June 2016, the Brexit vote provided another shock to the market. On June 23, 2016, UK (EWU) citizens voted to leave the European Union (EZU) (VGK), creating worry that this decision could lead to other member countries leaving the European Union.
Article continues below advertisement
The US election was a major event in 2016. After Donald Trump's victory over Hillary Clinton, major US indexes (QQQ) (SPY) (IWM) reacted positively. Many market participants believe that the Trump administration will be business friendly. Trump's proposed steps and cabinet selections increased investors' confidence, driving the market's movement after the election.
Performance of the S&P 500 Index
The S&P 500 Index (SPY) had returned nearly 12% in 2016 as of December 28, 2016. The index showed historically huge gains from November 9, 2016, to December 25, 2016, after the announcement of the US election outcome. In January 2016, it had shown a continuous fall due to the slowdown in China's economic activity. It also fell in June 2016 due to the Brexit vote.
In the next part of this series, we'll analyze the outlook of the S&P 500 Index for 2017.