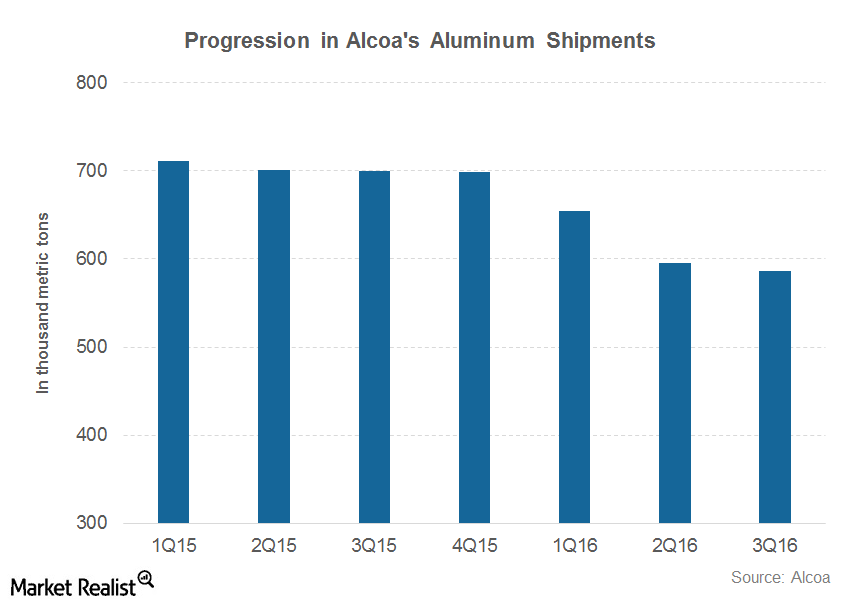 Should We Blame China for Alcoa's Falling Production Profile?
Alcoa's production profile
US aluminum production has been falling for the last few years. According to Reuters, in 2016, US aluminum production is expected to fall to post-World War II levels.
Alcoa was the world's second-largest aluminum producer in 2007, but in 2015, the company was ranked fourth. The fall in Alcoa's global position can be attributed to two factors. Let's take a look at them.
Article continues below advertisement
US aluminum production has fallen
Aluminum producers such as Rio Tinto (RIO) and Aluminum Corporation of China (ACH) have been ramping up production. Alcoa (AA) and other US-based aluminum producers such as Century Aluminum (CENX) have been curtailing their high-cost capacities to survive the prolonged slump in commodity prices.
One of the reasons US-based aluminum producers such as Alcoa and Century Aluminum find it hard to compete is because the cost of electricity is higher in the United States (DIA). Producers in China allegedly get a power subsidy. Higher labor costs in the United States also don't help the US aluminum industry.
Lower commodity prices
Alcoa and Century Aluminum managed to survive the commodity price slump by closing their high-cost capacities and negotiating better power deals for some of their operating plants. However, Noranda Aluminum had to file for bankruptcy last year.
With trade actions against Chinese imports, US aluminum producers could expect sanity to return to the aluminum markets. It's worth noting that while the United States doesn't import a lot of aluminum directly from China, higher Chinese aluminum exports pressure prices, which negatively impacts aluminum producers.
In the next part, let's see what trade action could mean for the global aluminum industry.