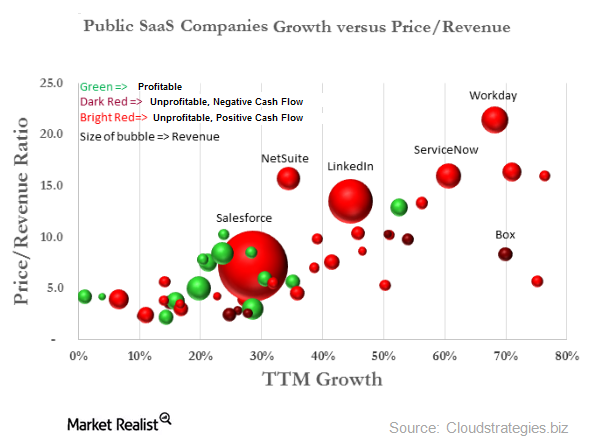 Why Is Salesforce Stock a 'Buy' for UBS?
By Anne Shields

Dec. 4 2020, Updated 10:53 a.m. ET
Salesforce's acquisition spree
As we've already discussed in this series, Salesforce's (CRM) initiatives, partnerships, and acquisitions in the cloud space appear set to continue in 2017. Last week, UBS analyst Brent Thill stated that Salesforce stock will likely defy its 2016 trend and will turnaround in 2017 with the aid of appropriate management actions.
Investors have meanwhile been skeptical of Salesforce's acquisition spree, which it started in 2016. Despite losing LinkedIn (LNKD) to Microsoft (MSFT), Salesforce made 13 acquisitions in 2016. On the insistence of its shareholders, Salesforce has backed away from its prior decision to buy Twitter (TWTR).

Morgan Stanley (MS) also applauded Salesforce's (CRM) backing out from the Twitter (TWTR) acquisition. Analyst Keith Weiss mentioned that Twitter was "not the right fit" for Salesforce investors and that the company can now focus on its fundamentals.
After losing the bid to Microsoft (MSFT), Salesforce attempted to thwart the LinkedIn acquisition, stating that the deal between Microsoft and LinkedIn would curb competition.
Article continues below advertisement
Salesforce's valuation in 2017
The above chart by CloudStrategies shows the relationship between the growth and price-to-revenue ratios of public SaaS (software-as-a-service) companies. Recently, Salesforce lost its leadership position to Microsoft, which has become an overall SaaS leader. However, it continues to rule CRM (customer relationship management) space.
Unlike peers IBM (IBM) and Oracle (ORCL), Salesforce continues to post double-digit growth in revenues, but its growth is slowing down, which impacted its stock in 2016.
However, Thill believes that Salesforce stock could recover in 2017, given the following factors:
relatively low valuation, at ~5x its next-twelve-month EV-to-S (enterprise value to sales) ratio
revenue growth to be 2x–6x faster, with a significant room for margin expansion
next-twelve-month EV-to-S ratio average as compared to its comparable SaaS (software-as-a-service) peer group.
Notably, Salesforce is widely believed to be the dominant player in SaaS space.