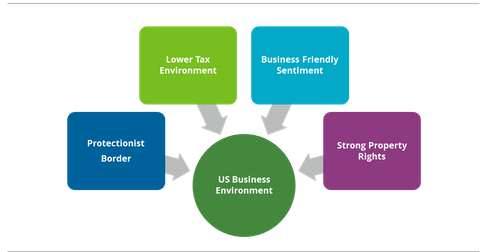 Does Ray Dalio Think the US Is a Good Place to Do Business?
By Sarah Sands

Updated
Ray Dalio's view on business sentiment
In a recent interview with CNBC, activist investor Ray Dalio said that he believes business sentiment in the US is improving.
Dalio believes US (IVV) (VOO) businesses are more optimistic. According to Dalio, if an investor is considering investing in the US, China (ASHR) (MCHI), or anywhere else, then it would be wise to consider the United States first. According to him, the US (IWM) (VFINX) will likely see a move towards protectionist policies, a lower corporate tax environment, and business friendly policies. Dalio thinks these factors will make the US a better place to do business.
Article continues below advertisement
He also said that the US has strong property rights and that there is strong momentum in terms of economic growth, which may not be the case in other regions. He believes the US will experience huge capital investments in the near future, which will help businesses expand and spur growth in the labor market.
However, Dalio also said that Trump's protectionist approach could create a problem for global trade, which could pose a threat to globalization. Trump already said during his election campaign that he will increase import duties on various Chinese products to boost the domestic market in the US.
In the next part of this series, we'll analyze Ray Dalio's largest holdings.