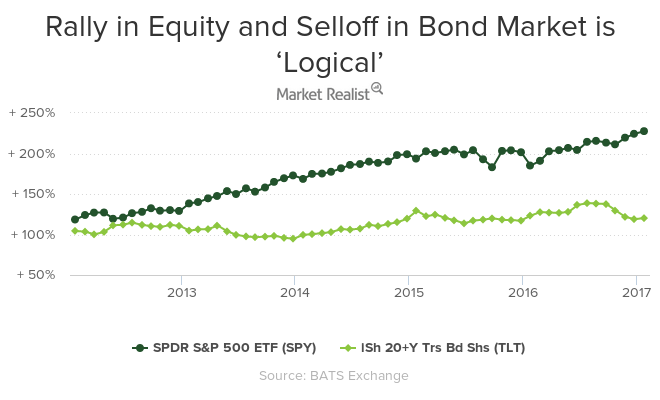 What Dalio Thinks about Equity Market Rally and Bond Market Sell-Off
Ray Dalio on stock rally
In an interview with Bloomberg Television, billionaire fund manager Ray Dalio said that the rally in the equity market and the sell-off in the bond market are "logical."
[marketrealist-chart id=1883353]
Expectations for a stronger economic environment, less regulation for businesses, and policy reformation are driving the equity market (SPY) (QQQ). However, Dalio believes the "market has discounted the obvious." In the present scenario, Dalio believes investors should pause to see whether fundamental factors will support the market (VFINX) (VOO) (IVV) rally or not. In the past, we've seen that when the index touched new technical highs, support from fundamental factors was necessary for the rally to continue.
Article continues below advertisement
Ray Dalio on bond sell-off
Market participants also believe that inflation could rise. Inflation expectations are in turn leading to rising expectations for gradual interest rate hikes, which are boosting bond yields (TLT) (SHY) (BND). Thus, Dalio believes the sell-off in the bond market and the rally in the equity market are "logical."
However, Ray Dalio expects that overall returns will be lower in 2017. The higher bond yield indicates a lower return from the bond market. On the other hand, the equity market already saw a huge rally. The higher asset prices may adjust with the rising interest rates. All these factors indicate investors could see lower returns in 2017.
You may be interested to read, Why George Soros Lost Money during Recent Rally.