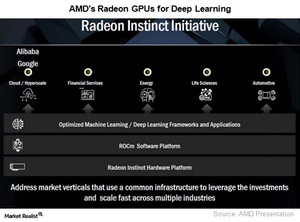 Radeon Instinct Marks AMD's Entry into the Deep Learning Market
By Puja Tayal

Updated
AMD enters the deep learning market
Advanced Micro Devices (AMD) will launch its Vega 10 GPUs (graphics processing unit) in three variants: consumer, workstation, and server.
Until now, AMD has focused its GPUs mainly on gaming. However, the onset of deep learning among cloud companies and enterprises in 2016 boosted demand for accelerators such as GPUs and FPGAs (field-programmable gate arrays).
NVIDIA's (NVDA) data center revenue more than doubled in 2016, and Intel (INTC) also started offering Altera's FPGAs along with its Xeon processors. Even AMD received GPU orders from Alibaba (BABA) and Google (GOOG) for their cloud services.
This encouraged AMD to launch its Radeon Instinct initiative aimed at data center technology.
Article continues below advertisement
AMD's Radeon Instinct initiative
AMD estimates that the total addressable data center market is $18 billion. NVIDIA is at the forefront of deep learning with its Tesla product lineup, and it's also at the forefront of the self-driving car initiative. Even AMD is looking to tap this fast-growing market, and it's therefore announced its Radeon Instinct Accelerators MI6, MI8, and MI25, which are scheduled for a 2017 launch.
The MI6 accelerator will be based on AMD's Polaris architecture and will offer 5.7 teraflops of performance while consuming 150 watts of power. It will deliver 224 Gbps (gigabits per second) of memory bandwidth.
The MI8 accelerator will be based on AMD's Fiji architecture and will offer 8.2 teraflops of performance while consuming 175 watts of power. It will deliver 512 Gbps of memory bandwidth.
The MI25 accelerator is reported to be based on AMD's Vega architecture and will offer 25 teraflops of performance while consuming 300 watts of power. These specifications beat NVIDIA's Titan X Pascal card's 11 teraflops of performance. The MI25 accelerator will feature a new high-bandwidth cache and controller that can support up to 512 terabytes of virtual address space.
What is Radeon Instinct's probability of success?
AMD is building Radeon Instinct accelerators on its existing graphics and software architecture, which has reduced its R&D (research and development) costs. As these server accelerators command higher prices, AMD doesn't need to sell huge volumes in order to break even.
Implementing a new accelerator isn't taxing for most data centers, removing the issue of compatibility with existing systems. Moreover, data centers welcome competition, giving AMD a chance to win orders over NVIDIA. For example, Google is using both AMD's and NVIDIA's GPUs in its cloud platform.
While graphics are AMD's priority, the company has also been optimizing its computing processors roadmap to sync with its graphics roadmap. Next, we'll look at AMD's computing roadmap.