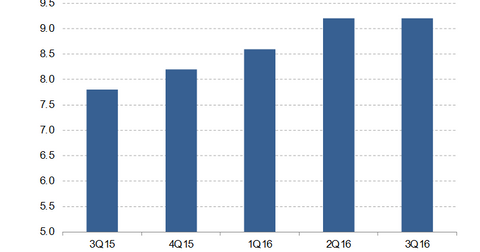 Questions about T-Mobile's Sales Practice Could Hurt the Carrier
By Ruchi Gupta

Updated
Sales associates under pressure
T-Mobile (TMUS) is in the spotlight over claims that the company burdens employees with tough sales targets that cause them to mislead customers into paying for services or products they don't want. Change to Win (or CtW), a labor group, has filed another complaint against the company.
CtW has reported T-Mobile to the Consumer Financial Protection Bureau, claiming that the carrier's sales associates work under pressure to meet sales targets and that they resort to unorthodox tactics to inflate customer bills and help T-Mobile to book improving sales. T-Mobile said its revenue in 3Q16 grew 17.8% to $9.2 billion.
Article continues below advertisement
CtW's report portrays working for T-Mobile as being harsh for sales reps. Interviews with several current and former T-Mobile workers in five states revealed that sales goals are set high for employees and managers monitor sales progress hourly. As a result of the pressure, sales associates add accessories and device protection plans even when customers don't ask for them. In other cases, customers are upgraded to packages that cost more without their consent.
Damaging claims
If these allegations are proved to be true, T-Mobile could not only face fines but also suffer damage to its reputation that could make it difficult to attract new customers. Given the intense competition in the US wireless market, subscribers have become sensitive to what they are getting from their service providers, and any sign of unethical marketing and misleading bills can spark mass defection.
T-Mobile and Sprint (S) have been trying to wrest control of the US wireless market from the grip of Verizon (VZ) and AT&T (T). They use a mix of tactics such as abandoning the legacy two-year service contracts and enticing subscribers with competitive service prices. But the questioning of T-Mobile's sales could cause subscribers to flee from the network.