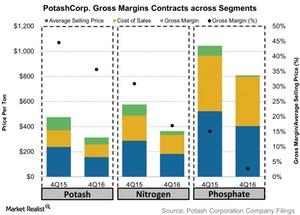 PotashCorp's Margins Contract, but How Much?
By Adam Jones

Nov. 20 2020, Updated 5:23 p.m. ET
PotashCorp's gross margins
Gross margins are key to a commodity company's success. In recent quarters, fertilizer companies have come under significant pressure to maintain their margins due to falling fertilizer product (SOIL) prices.
Year-over-year, each of PotashCorp's three segments experienced a margin contraction in 4Q16. In this part of the series, we'll see how that has affected PotashCorp (POT). It will also help us gear up for the upcoming earnings releases for Mosaic (MOS), CF Industries (CF), and Intrepid Potash (IPI).
Article continues below advertisement
Potash segment
On a per-ton basis, PotashCorp's Potash segment's gross margin per ton for potash fertilizer contracted 8.9% to 35.7% in 4Q16, from 44.5% in 4Q15. For 2016, the segment's margin had the steepest contraction of 24.3%, from 57.8% in 2015 to 33.5% in 2016.
Nitrogen segment
Year-over-year, margins for the Nitrogen segment contracted 13.9% in 4Q16 to 17.0%, from 30.9% in 4Q15. For 2016, the segment's margin contracted 11.1%, from 36.0% in 2015 to 25.0% in 2016.
Phosphate segment
The Phosphate segment's gross margins contracted as well. Year-over-year, they contracted 12.4% in 4Q16 to 2.7%, from 15.1% in 4Q15. For 2016, they contracted 11.0%, from 15.0% in 2015 to 4.1% in 2016.
For each of the company's three segments, selling prices have fallen more than POT's ability to cut costs of sales. For more updates on fertilizer companies, you can visit Market Realist's Agricultural Fertilizers page.