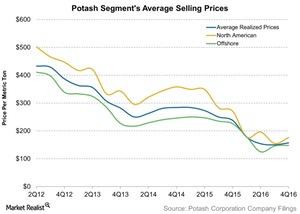 PotashCorp: Effects of Falling Potash Prices
By Adam Jones

Dec. 4 2020, Updated 10:50 a.m. ET
Potash selling prices
Earlier in this series, we saw that shipments for PotashCorp's (POT) Potash segment rose 27.0% year-over-year in 4Q16. However, this surge failed to offset the negative movements in potash prices. There was a 17.0% fall in sales, excluding freight costs.
Article continues below advertisement
Prices impact sales
PotashCorp's average potash selling price fell ~34.0% to $157 per ton in 4Q16, from $238 per ton in 4Q15. Potash prices in North America fell ~35.0% to $176 per ton year-over-year, from $271 per ton in 4Q15.
Similarly, potash prices in the offshore market fell ~34.0% to $148 per ton, from $226 per ton.
Potash prices for 2016
For 2016, overall average potash selling prices fell 40.0% to $158 per ton, from $263 per ton in 2015. Prices in North America fell 45.0% to $175 per ton, from $318 per ton in 2015. In the offshore market, prices per ton fell 39.0% to $148 per ton, from $241 per ton in 2015.
Since the offshore market makes up about two-thirds of the Potash segment's sales, the more gradual fall in the offshore market softened the impact of a much steeper fall in the North American market.
You can keep track of fertilizer prices weekly on our website. The latest report is Fertilizer Stocks: Good Growth for the Week Ending January 20.
Falling potash prices (MOO) remain a concern for PotashCorp, Mosaic (MOS), Agrium (AGU), and Israel Chemicals (ICL). PotashCorp is expanding its low-cost Rocanville project to counter falling potash prices and preserve margins. We'll be looking at margins later in this series.
In the next part, we'll take a look at shipment growth for PotashCorp's Nitrogen segment.