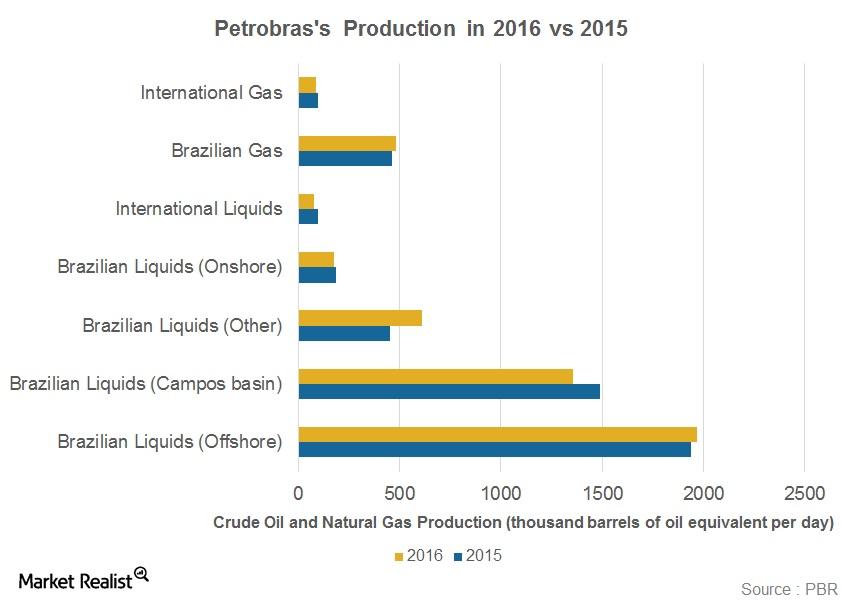 Petrobras Production Reaches New High: Stock Rises 5%
By Maitali Ramkumar

Jan. 12 2017, Updated 4:21 p.m. ET
Petrobras production for December 2016
Petróleo Brasileiro, commonly known as Petrobras (PBR), has announced an update on its production volumes for December 2016 and 2016. In this series, we'll be looking at the impact of that news on PBR stock. But first, let's take a look at the production numbers for this integrated energy major.
Petrobras posted record monthly as well as daily oil production volumes in Brazil for December 2016. In that month, PBR's monthly oil production in Brazil stood at 2.3 MMbpd (million barrels per day), which was about 3.0% higher the previous monthly high in September 2016. On December 28, 2016, PBR's oil production in Brazil touched a record high of 2.4 MMbpd.
If you combine crude oil, liquids, and natural gas production, PBR's monthly production in Brazil in December was ~2.8 MMboepd (million barrels of oil equivalent per day). That was about 3.0% higher than production in November 2016.
Article continues below advertisement
Petrobras production for 2016
In 2016, Petrobras's total hydrocarbon production hit a record level of ~2.6 MMboepd in Brazil, about 1.0% higher than 2015. In fact, in terms of oil production, PBR surpassed its 2016 target.
The company produced 2.2 MMbpd of oil in Brazil in 2016, which was about 0.75% higher than 2015. The increase in production was due to more production and startups of its new production systems. PBR saw a rise in output in the Lula field, the Sapinhoa field, and the Parque das Baleias area. Startups of two FPSO (Floating Production, Storage and Offloading) units in the Lula field and one FPSO in the Lapa field further boosted production volumes.
Latest update
In past few weeks, Petrobras saw the following divestment activities:
closed the sale of its ~46.0% stake in Guarani, a leading company in Brazilian sugar and the ethanol market, for $202.0 million
signed an agreement to sell Petroquimica Suape and Citepe, part of its petrochemical production, for $385.0 million, subject to adjustments
closed the sale of Nansei Sekiyu, a refining company in Japan, for $165.0 million
closed the sale of Petrobras Chile, a fuel distribution business in Chile, for $470.0 million.
PBR's cumulative divestments for 2015 and 2016 were $13.6 billion. Its partnership and divestment target for 2015–2016 was $15.1 billion.
Article continues below advertisement
PBR stock reaction
On January 11, 2017, PBR opened at $10.90 per share, which was lower than the previous day's close. But after the company released its production update, the stock gained momentum. It reached a high of $11.60 that day and closed at $11.50, which was about 5.0% higher than the previous day's close.
Also on January 11, WTI (West Texas Intermediate) February futures settled at $52.30 per barrel, or 2.8% higher than the previous day's settlement price. The correlation coefficient between PBR stock and WTI is 0.61 for a 12-month period. That's a high, positive correlation. Higher oil prices further supported PBR's stock value.
Let's compare the stock of PBR's peers on January 11. ExxonMobil (XOM), Chevron (CVX), BP (BP), and Royal Dutch Shell (RDS.A) rose 1.1%, 0.90%, 1.2%, and 2.1%, respectively. For exposure to integrated energy sector stocks, you can consider the SPDR S&P Oil & Gas Exploration & Production ETF (XOP), which has a ~6.0% exposure to the sector.