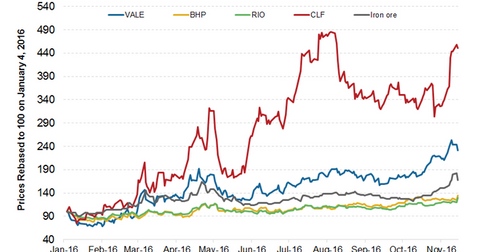 The Outlooks for Seaborne Iron Ore Prices and Cliffs in 2017
By Anuradha Garg

Updated
Iron ore prices
Seaborne iron ore prices have almost doubled in the last year, following three consecutive years of falls. Prices hit $83.60 per ton on December 12, 2016, their highest level since September 2014.
Many market participants have attributed part of this rally to speculative activities in iron ore futures trading. Authorities have now seriously clamped down on these activities.
Donald Trump's win in the US presidential election added fuel to the fire of iron ore's already steady gains, causing futures markets to explode. Fundamentally, investors were hopeful about Trump's pre-election pledge to spend $500 billion on infrastructure projects, which was supportive of commodity prices.
Article continues below advertisement
Other factors
Many analysts upgraded their near- to medium-term iron ore price forecasts due to the strength of the commodity. This activity further supported the commodity in 2016. The price of coking coal, another steelmaking (SLX) ingredient, almost quadrupled in 2016.
Rising coking coal prices have also been supporting the demand for iron ore, particularly for ore with high iron content. Higher-grade iron ore enables steelmakers to reduce the amount of coking coal required to produce steel. The premium between high-grade and low-grade iron ore has widened. The cost-push inflation on steel prices is also benefiting iron ore prices.
Impact on Cliffs
Given stronger iron ore prices in 2016, iron ore miners have recuperated from some of their losses. Cliffs Natural Resources (CLF) has outperformed, with a rise of 404% in 2016. Its APIO (Asia-Pacific Iron Ore) division is directly exposed to seaborne iron ore prices. Cliffs' pricing for long-term contracts in its US division is also slightly tied to benchmark iron ore prices.
Firmer seaborne iron ore prices have also helped other miners (XME). Vale (VALE) has risen 141%. Rio Tinto (RIO) and BHP Billiton (BHP) (BBL) have risen 35% and 40%, respectively.