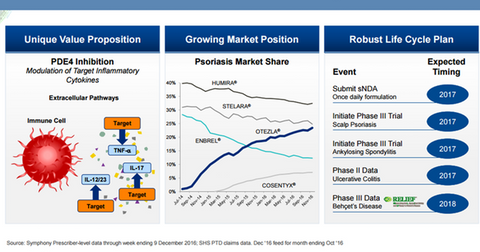 Celgene's Otezla Expected to Post Strong Revenue in 2017
By Margaret Patrick

Updated
Otezla revenue trends
According to unaudited financial results published by Celgene (CELG) on January 9, 2017, Otezla sales for 2016 were about $1.0 billion. That's a YoY (year-over-year) rise of about 116.0%.
In 2017, the company expects Otezla sales of $1.5 billion–$1.7 billion. Considering the midpoint of the projected range, the drug is expected to report YoY revenue growth of about 57.0% in 2017.
These projections are based on Otezla's solid performance. The drug crossed the $1.0 billion mark in the second year after its commercial launch. To know more about Otezla's performance in 2016, please refer to Otezla Penetrates the Psoriasis, Psoriatic Arthritis Segments.
Article continues below advertisement
Otezla has been further approved for adult patients suffering with plaque psoriasis who failed to respond sufficiently to topical therapies in Japan. So the drug could surpass Celgene's revenue projections. This development may have a positive impact on CELG stock and the Vanguard S&P 500 ETF (VOO). Celgene makes up about 0.46% of VOO's total portfolio holdings.
Solid performance
Due to the unique mechanism of Otezla, the drug has managed to target the pre-biological segment of patients suffering with psoriasis and psoriatic arthritis. High efficacy and a solid safety profile have been the key drivers of the drug's rapid penetration in the target market.
Since July 2014, Otezla has seen a solid ramp-up compared to drugs such as AbbVie's (ABBV) Humira, Johnson & Johnson's (JNJ) Stelara, and Amgen's (AMGN) Enbrel. Otezla is also expected to be launched in many European markets and Japan in 2017, which will further drive its future revenue growth.
In 2017, Celgene plans to submit an sNDA (supplemental New Drug Application) seeking approval for Otezla's once-a-day formulation. That's expected to increase patient compliance, which may further contribute to the commercial success of the drug.
Celgene is also exploring Otezla in other immunological conditions such as scalp psoriasis, ankylosing spondylitis, ulcerative colitis, and Behçet's disease.
Next, let's take a look at ozanimod, Celgene's investigational inflammation and immunology drug.