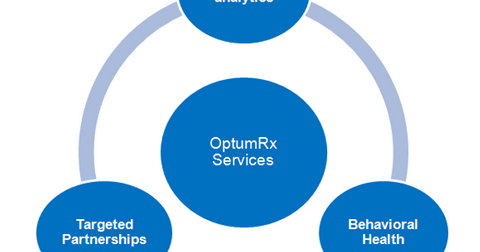 OptumRx Continues to Boost UnitedHealth's Pharmacy Care Services
By Margaret Patrick

Updated
OptumRx growth trends
In its bid to control healthcare costs, UnitedHealth Group's (UNH) OptumRx segment has been actively deploying data analytics, consumer engagement models, and clinical integration across its Optum platform. That's expected to translate to a solid rise in revenues for OptumRx in 2017 and 2018.
UnitedHealth Group has projected that OptumRx's customer retention rate will remain high at about 90.0% in January 2017. To know more about OptumRx, please refer to OptumRx manages UNH's pharmacy benefit management business.
If OptumRx continues its strong growth trend in the future, it may have a positive impact on UnitedHealth Group stock as well as the Vanguard Value ETF (VTV). UnitedHealth Group makes up about 1.4% of VTV's total portfolio holdings.
Article continues below advertisement
Data analytics
OptumRx's data-driven approach has helped most of UnitedHealth Group's customers improve the synchronization and integration of their pharmacy care services into the clinical continuum. Since pharmacy care data are coupled with medical data, diagnostic laboratory data, behavioral data, and other clinical data points, OptumRx manages to develop a holistic view of care delivery to patients. That, in turn, translates to early intervention by pharmacists to improve overall patient compliance to treatment, which can subsequently result in significant cost savings.
OptumRx is thus expected to give UnitedHeath Group a competitive edge over peers such as Aetna (AET), Cigna (CI), and Anthem (ANTM).
Targeted partnerships
On March 17, 2016, UnitedHealth Group announced that OptumRx had entered into a partnership with Walgreens to offer greater flexibility and choices for filling customer prescriptions. That relationship has helped reduce overall spending of its benefit sponsors.
On January 20, 2016, UnitedHealth Group entered into a partnership with Availity, the largest real-time health information network in the United States. The partnership is expected to simplify the claims processing process and reduce the number of errors. The improved technology is expected to benefit healthcare providers, payers, and patients.
Article continues below advertisement
In 2Q16, OptumRx forged multiple new relationships, which together increased the coverage of its services to around 1.3 million new people. On November 29, 2016, UnitedHealth Group announced a new relationship with CVS Health, aimed at improving access to drugs for its customers. The relationship is especially useful for patients using 30-day and 90-day prescriptions to get drugs at preferred prices.
Behavioral health
UnitedHealth Group's whole-person approach is also playing a vital role in enabling OptumRx representatives to detect patients suffering with behavioral health ailments prior to escalation of the condition. Early intervention is expected to result in significant cost savings for UnitedHealth Group in the future.