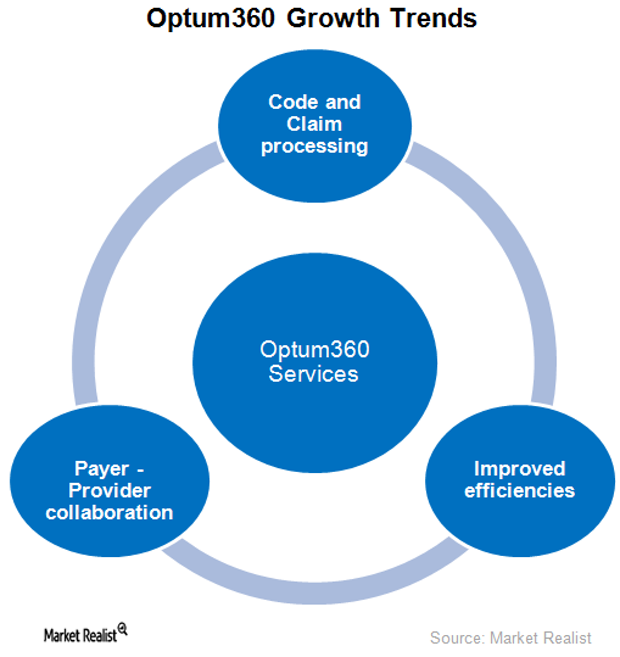 Optum360: Will It Become UnitedHealth's Key Growth Driver?
By Margaret Patrick

Jan. 17 2017, Updated 1:05 p.m. ET
Optum360 growth trends
Optum360, launched in 2012, is UnitedHealth Group's (UNH) hospital revenue cycle management solution. It's expected to reach $60.0 billion in billings for clients and partner organizations.
Currently, there are about 10,000 people working for this segment. Four of every five hospitals in the United States are using at least some part of Optum360's services. UnitedHealth Group expects to leverage its customer relationships to further boost business opportunities for Optum360.
If UnitedHealth Group is successful in effectively implementing its Optum360 strategy, it may have a positive impact on the company's stock as well as the stock of the SPDR Dow Jones Industrial Average ETF (DIA). UnitedHealth Group makes up about 5.5% of DIA's total portfolio holdings.
Article continues below advertisement
Code and claim processing
UnitedHealth Group currently serves about 400 hospital facilities for code and claim processing. It does this through Optum360's natural language processing and computerized medical coding technology. About 125 facilities are using the company's computerized documentation technology.
Unlike the past when hospital staff did these tasks manually, natural language processing is now used to translate physician documents into relevant codes. UnitedHealth Group is working with other healthcare providers to computerize the code and claim processing tasks, which could result in more consistency and accuracy in their billing processes.
Payer-provider collaboration
UnitedHealth Group is also playing a major role in improving the ease of collaboration for payers and healthcare providers. Optum360 is attempting to reduce the delay in payment and move the cycle closer to the time when services are rendered. That helps control errors as well as subsequent rework.
Improved efficiencies
On September 13, 2016, UnitedHealth Group entered into a partnership with Quest Diagnostics related to its revenue management system. Optum360 is expected to improve Quest Diagnostics' process management and services and also lower costs. That could translate to improved efficiencies for Quest Diagnostics.
UnitedHealth Group is actively seeking opportunities to deploy Optum360 solutions for other healthcare providers.
In the next part of this series, we'll look at the growth prospects for Optum One, UnitedHealth Group's population health management solution.