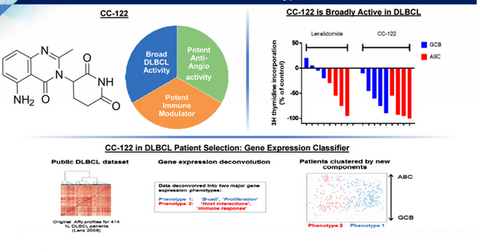 Could Celgene Grow beyond 2020 with CC-122?
By Margaret Patrick

Jan. 25 2017, Updated 7:36 a.m. ET
CC-122 growth prospects
Celgene (CELG) is currently exploring CC-122, a novel CELMoD (cereblon modulating) agent, as a treatment option for diffuse large B-cell lymphoma (or DLBCL). It's the most common type of non-Hodgkin's lymphoma, so there's a significant growth opportunity for Celgene.
Relapsed/refractory DLBCL patients are generally treated with intensive chemotherapy. However, the majority of them die due to the disease. That highlights the unmet demand in this therapeutic area.
Based on genetic research of DLBCL tumors, they're classified as activated B-cell-like (or ABC) tumors, germinal center B-cell-like (or GCB) tumors, and unclassified tumors.
Article continues below advertisement
Celgene intends to develop CC-122 as a therapy with broader activity than Revlimid in the DLBCL area. If the company realizes its objective, the therapy may be a major breakthrough in the lymphoma segment. It may also have a positive impact on Celgene stock and the iShares Russell 1000 Growth (IWF). Celgene makes up about 0.81% of IWF's total portfolio.
The above diagram shows that when compared to Revlimid (lenalidomide), investigational drug CC-122 has demonstrated a more pronounced activity in both ABC and GCB patients. Celgene is also studying gene expression in various DLBCL tumors to identify the correct patient group for conducting its clinical trials.
CC-122 is expected to enable Celgene to pose strong competition to other oncology players such as Merck & Co. (MRK), Pfizer (PFE), and Bristol-Myers Squibb (BMY).
Combination therapy
Celgene has tested CC-122 in combination with obinutuzumab as a combination therapy in an open-label Phase 1b trial. The regimen is being tested in patients suffering with relapsed/refractory DLBCL or indolent non-Hodgkin's lymphoma (or iNHL). It could help Celgene pinpoint the appropriate dose for future trials.
The overall response rate observed in a patient population of 26 patients is 53.8%, which involves follicular lymphoma (or FL), DLBCL, and marginal zone lymphoma (or MZL) patients.
In the next part, let's look at the growth prospects for Celgene's immunology and inflammation franchise.