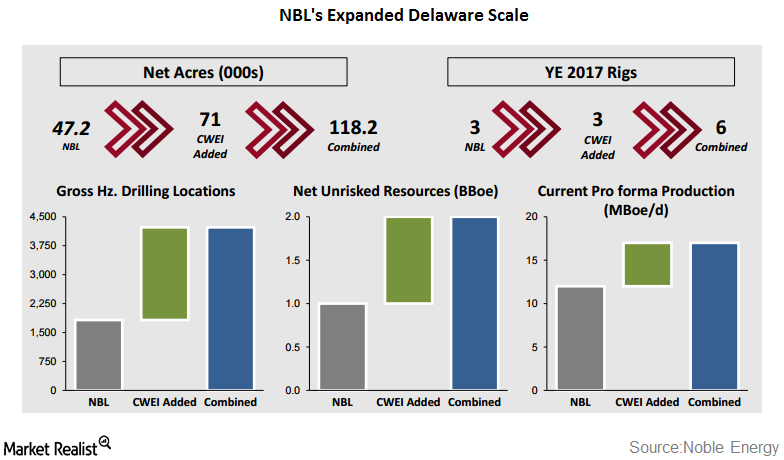 Noble Energy's Key Operational Objectives for 2017 and Beyond
By Keisha Bandz

Jan. 18 2017, Updated 1:05 p.m. ET
What's ahead for NBL in 2017?
Noble Energy (NBL) started off 2017 with three rigs in the Southern Delaware Basin. With the Clayton Williams (CWEI) acquisition, it will have four rigs operational in that basin, one of them in the CWEI acreage.
After the acquisition is completed, NBL plans to add a second rig to the new acreage in 2Q17. A third rig is planned for later in the year, with an objective to end 2017 with six running rigs.
NBL's management said in a press release, "Following our ramp of activity in 2017, the acquired assets are expected to be self-funding and accretive to Noble Energy's earnings and cash flow per share beginning next year."
After the CWEI transaction closes, NBL expects to add an incremental $150.0 million to its 2017 capital, allocated to the Delaware Basin. It will bring Delaware's share in 2017 capex (capital expenditure) to $500.0 million. Total capex for 2017 is expected to be $2.1 billion–$2.5 billion.
Article continues below advertisement
Key long-term operating objectives
In a previous series on Noble Energy, we looked at some key long-term projections provided by the company for the next five years. Below are some of its projections following the CWEI acquisition:
Noble Energy plans to grow production in its newly acquired acreage from the current 10.0 Mboe/d (thousand barrels of oil equivalent per day) to 60.0 Mboe/d in 2020 in the base plan ($50 per barrel WTI and Brent and $3 per thousand cubic feet Henry Hub natural gas) and to 70.0 Mboe/d in the upside plan (adds $10 per barrel).
Rig activity on the acquired acreage will grow from three rigs at the end of 2017 to five rigs (base plan) and six rigs (upside plan) in 2020.
NBL expects its US onshore oil (USO) volumes to increase at a CAGR (compound annual growth rate) of 25.0% in its base plan and 34.0% in its upside plan in the four years to 2020.
Noble Energy's total production is expected to be 600.0 Mboe/d in 2020 in the base plan and ~700.0 Mboe/d in the upside plan. That represents a CAGR of 11.0%–15.0%. Production volumes for 2020 include a "full year of volumes" from the Leviathan Gas Field.