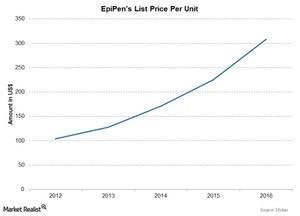 Mylan's EpiPen Controversy: Is It a Brand or a Generic?
By Mike Benson

Jan. 11 2017, Published 3:06 p.m. ET
The EpiPen crisis
The EpiPen Auto-Injector is one of Mylan's (MYL) key drugs. It's an epinephrine injection used for the treatment of anaphylaxis, a life-threatening allergic reaction that occurs very quickly due to exposure to an allergy-causing substance.
The EpiPen is approved as the first-line treatment of anaphylaxis and useful in allergic reactions caused by insect and bee stings, seafood, peanuts, medicines, and other allergy-causing substances.
Article continues below advertisement
The controversy
Mylan has been embroiled in a controversy over whether its EpiPen is classified as a generic or a branded product. The classification directly impacts rebates provided to Medicare. For branded innovative products, drug manufacturers provide Medicare with a rebate of more than 23.0% of the drug's average price. For generic drugs, Medicare gets a 13.0% rebate.
Another controversy is the price of the EpiPen. After Mylan acquired Merck & Co.'s (MRK) generics portfolio in 2007, it raised the price of the EpiPen by 500.0% to the current price of more than $600 for a pack of two auto-injectors.
Recent launch of generic version
On December 16, 2016, Mylan's US subsidiary launched the first generic version of the EpiPen Auto-Injector. The wholesale acquisition cost (or WAC) is $300 for a pack of two auto-injectors.
In a company press release, Mylan clarified that the generic version contains the same drug formulation and functionality as the branded product but at more than a 50.0% discount from the WAC for the branded product. The final retail cost of the generic product will depend on insurance and markups in the supply chain.
The EpiPen Auto-Injector competes with Sanofi's (SNY) Auvi-Q, Amedra Pharmaceuticals' Adrenaclick, and Lineage Therapeutics' epinephrine injection. Amedra Pharmaceuticals is a subsidiary of Impax Laboratories (IPXL).
To divest your risk, you can consider ETFs such as the iShares US Pharmaceuticals (IHE), which holds 3.6% of its total assets in Mylan.