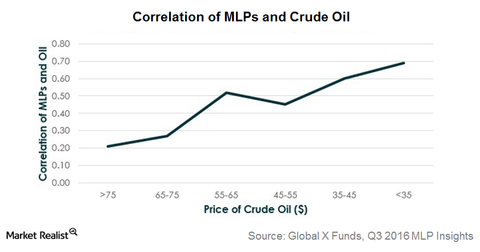 How Lower Correlation with Commodities Makes MLPs Look Attractive
By Kurt Gallon

Updated
Correlation with crude oil
MLPs' correlation with crude oil tends to increase with a decline in crude oil prices. Below $35 per barrel, MLPs exhibited a strong correlation with oil of 0.7. Between the $45–$55 per barrel range, MLPs have a correlation of 0.45. The correlation falls to 0.2 when oil is trading above $75.
Investors expect less likelihood of oil prices falling back to the ultra-low levels witnessed in 2015 and the start of 2016. This could make them optimistic about the future of infrastructure MLPs and explains the increased interest in this asset class.
Article continues below advertisement
Commodity prices typically don't correlate directly to midstream MLP performance. With the exception of upstream MLPs, which sell oil and have direct exposure to oil prices, most other MLPs—especially the midstream MLPs—are generally impacted when oil prices are low enough that drilling is curtailed and pipeline volumes are cut.
MLPs' contracts
Midstream MLPs are protected from production declines through fixed fees firm reservation contracts or minimum volume commitment with shippers. This could be one of the reasons for MLPs' lower volatility relative to crude oil and natural gas.
EQT Midstream Partners (EQM), Williams Partners (WPZ), and Antero Midstream Partners (AM) are among the midstream MLPs that benefit from firm reservation contracts.
Firm reservation contracts: Under firm reservation contracts or firm contracts, a fixed monthly fee is charged for the reservation of pipeline capacity regardless of whether the capacity is used.
Minimum volume commitment (or MVCs): MVC contracts guarantee some minimum throughput volumes. If throughput volumes fall below the MVC, the shippers are required to make shortfall payments.