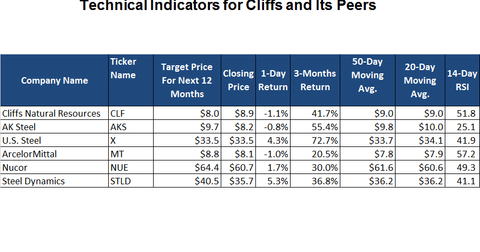 A Look at Technical Indicators for Cliffs and Peers
By Anuradha Garg

Updated
Technical indicators
In this article, we'll discuss the technical indicators for Cliffs Natural Resources (CLF) and its peers. Traders and investors look at technical indicators when making market entry or exit decisions.
Moving averages and the RSI (relative strength index) score are among the most widely used technical parameters. Generally, an RSI score below 30 signifies an oversold position, and an RSI score above 70 indicates an overbought position.
Article continues below advertisement
Cliffs's technicals
Based on its January 26, 2017, closing price, Cliffs is trading 1.7% below its 50-day moving average and 1.1% below its 20-day moving average. Its RSI score is well above 30, which points to an oversold position.
CLF had a 14-day RSI score of 52 based on its January 26 prices. The stock has corrected 15% in the last 35 trading days, which dragged the stock from an overbought position. Investors should note that stocks can remain oversold or overbought for an extended period of time.
Technicals of peers
Cliffs Natural Resources's (CLF) peers in the US steel sector have also corrected from their post-Trump win highs. AK Steel (AKS) is trading 18% below its 20-day moving average and 16% below its 50-day moving average. It is trading at a 14-day RSI score of 25. Considering these indicators, AKS seems oversold.
U.S. Steel Corporation (X) is still trading 0.6% below its 50-day moving average and has a 14-day RSI score of 42. ArcelorMittal (MT) and Steel Dynamics (STLD) currently have RSI scores of 57.2 and 41.1, respectively.
Although the current commodity (DBC) rally seems to be providing momentum to mining stocks, we believe that investors should look at these investments from a slightly longer-term perspective to see which stocks can sustain this price advantage.