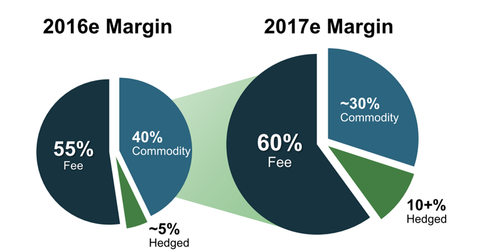 A Look into DCP Midstream's Updated Commodity Price Exposure
By Kurt Gallon

Updated
DPM's direct commodity price exposure
The earnings of midstream companies, including the larger ones such as Energy Transfer Partners (ETP) and DCP Midstream Partners (DPM), as well as smaller ones like Summit Midstream Partners (SMLP) and Crestwood Equity Partners (CEQP), are believed to not have much direct commodity price exposure.
The correlation between DPM's stock price and crude oil (USO) resulted in a correlation coefficient of 0.59 over the past year. Natural gas (UNG) and DPM have a correlation coefficient of 0.11 for the same period. The correlation between DPM and crude oil increased to 0.67 over the past three months. A correlation coefficient close to one might indicate a strong relation between two variables.
Article continues below advertisement
DCP Midstream's high exposure to crude oil reflects its exposure to NGLs (natural gas liquids) prices. The increase in correlation with crude oil over recent months could be due to the expiration of commodity hedges. About 30% of the combined company's 2017E margins could be linked to commodity prices. The partnership has hedged only 30% of commodity-linked volumes.
DPM expects every $0.01 per gallon change in NGLs prices to impact its earnings by $5 million in 2017. At the same time, every $0.10 per MMBtu (million British thermal units) change in natural gas prices could impact its earnings by $7 million.
DPM's commodity exposure
Midstream companies are indirectly exposed to commodity prices through production levels. If the crude oil and natural gas prices continue to stay low, upstream producers could cut their production or even go bankrupt. These scenarios could result in lower throughput volumes, lower earnings, and higher counterparty risk.
The combined partnership is expected to benefit from strong drilling activity in the Permian Basin, DJ Basin and SCOOP/STACK areas of the Midcontinent. This could be slightly offset by the Eagle Ford Production decline where the partnership has core dedications.