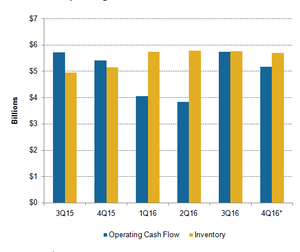 Leveraged Balance Sheet Doesn't Deter Intel from Investing in Future
By Puja Tayal

Updated
Intel's balance sheet
In this series, we saw that Intel (INTC) is transforming from a silicon chip provider to an end-to-end solution provider for the connected world. It's developing new technologies, acquiring artificial intelligence startups, and entering partnerships with a wide range of companies from automakers to sensor suppliers to web service companies.
All this requires a huge investment. Intel annually invests around $20 billion in capital expenditure and research and development. It has a strong balance sheet that helps it take up such large investments.
Article continues below advertisement
Cash flows
As seen from the above graph, Intel's operating cash flow rises above $5.5 billion during seasonal quarters and then falls to as low as $3.3 billion in the off season. In fiscal 3Q16, it generated operating cash flow of $5.8 billion and used $1 billion to repay its short-term liability. The company expects to earn an operating cash flow of above $5 billion in fiscal 4Q16, but it would largely use it for capital expenditure.
Intel had committed around $9.5 billion in capital expenditure in fiscal 2016 and has so far spent only $6 billion. This means it may spend $3.5 billion of its operating cash in capital expenditure and the remaining $1.5 billion in returns to shareholders in fiscal 4Q16.
Inventory
In fiscal 4Q15, Intel's inventory rose 4% sequentially as PC sales fell more than expected and the first-generation 14-nm (nanometer) products were replaced by second-generation 14-nm products. Since then, the company has maintained its inventory at around $5.7 billion to $5.8 billion in the first three quarters of 2016.
In fiscal 3Q16, Intel witnessed an increase in the inventory of non-CPU (central processing unit) products as it prepared for modem orders for Apple's (AAPL) iPhone 7. Intel expects the inventory levels to fall in 4Q16 as it ships those modems to Apple and PC sales show signs of stabilization. The next significant growth in inventory may come in fiscal 4Q17 when the 10-nm node comes into production.
Cash and debt position
On October 1, 2016, Intel had cash reserves of $17.8 billion, of which $15.2 billion was held overseas. It has long-term debt of $27.6 billion. Donald Trump's 10% repatriation tax could help Intel bring the earnings back to the United States, and it may look to repay some of its long-term debt.
Next, we'll see what Wall Street analysts think about Intel and its peers.