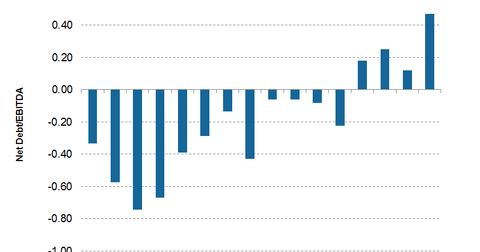 Is Boeing's Rising Leverage Getting Risky for Investors?
By Ally Schmidt

Jan. 31 2017, Updated 7:36 a.m. ET
Boeing's rising leverage
Boeing's (BA) growth has come at a cost. Although rising demand is good for the company, it has meant increasing capacity to cater to this demand, which BA did by raising more debt. Technology obsolescence also necessitates continuous investment in R&D (research and development) and the development of new aircraft.
At the end of 4Q16, Boeing's leverage was ~$9.95 billion, or $0.5 million lower than its $10.45 billion at the end of 3Q16. At the end of 1Q16, Boeing went from being net debt negative to net debt positive, meaning the debt on its balance sheet now exceeds the cash on its balance sheet.
However, due to the repayment of debt in 4Q16, BA's net debt-to-EBITDA (earnings before interest, tax, depreciation, and amortization) ratio has fallen from 0.47x at the end of 3Q16 to 0.13x at the end of 4Q16.
At the end of 4Q16, defense peer Lockheed Martin (LMT) had a net debt-to-EBITDA ratio of 6.8x. Peers United Technologies (UTX) and General Dynamics (GD) have yet to report their 4Q16 earnings.
Article continues below advertisement
Cash flows provide respite
At the end of 4Q16, Boeing's cash on the balance sheet stood at $10 billion. In 4Q16, it generated operating cash flows of about $2.8 billion—lower than the $3.1 billion in 4Q15. Its free cash flow of $2.2 billion was also higher than the $2.5 billion generated in 4Q15.
In fiscal 2016, Boeing generated strong operating cash flows of about $10.5 billion, as compared to $9.4 billion in 2015. Its free cash flow of $7.9 billion was also higher than the $6.9 billion it generated in 2015.
Outlook for 2017
For 2017, Boeing expects its operating cash flow to be ~$10.8 billion. It also plans to increase capacity to 65 aircraft per month by end of 2017, which will require additional investments.
BA's major clientele includes airlines, which is a cyclical industry. Airlines have witnessed increased profitability in the past two years due to huge fuel savings. However, it's only a matter of time before fuel prices rebound.
When that happens, companies with high leverage are deemed riskier. If industry fundamentals deteriorate, it may result in order cancellations for BA, bringing its balance sheet under stress.
Notably, Boeing makes up ~9.4% of the iShares US Aerospace & Defense ETF (ITA).