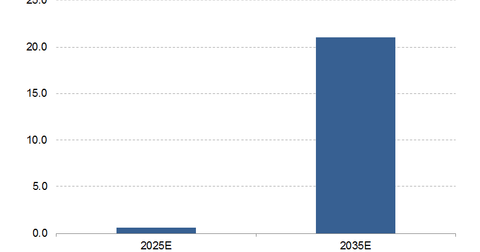 Is Intel's HERE Investment a Jab at Alphabet?
By Ruchi Gupta

Updated
Intel to optimize HERE technology for autonomous driving
Intel (INTC) has sought to acquire a 15% stake in the digital mapping firm HERE, which Nokia (NOK) sold to a consortium of German automakers comprising BMW, Audi, and Daimler.
While Intel isn't disclosing how much it is investing for the stake in HERE, the investment will allow it to play an active role in refining HERE mapping technology. Precise and accurate navigation remains an area of need in autonomous driving and Intel seems to believe it can leverage its expertise in semiconductor chip making to help optimize HERE mapping technology and make it more useful for developers of self-driving cars.
Autonomous driving is predicted to explode in the coming decade. Research firm IHS Markit says sales of self-driving cars will reach 0.6 million by 2025 and 21 million by 2035.
Article continues below advertisement
Stirring the waters for Alphabet and Apple
Intel is headed for a clash with Alphabet (GOOGL) and Apple (AAPL) for the control of the market for navigation technology for autonomous vehicles. In addition to developing autonomous driving technologies, Alphabet and Apple are also leading vendors of digital mapping technology. The entry of Intel is set to stir stiff competition in the digital mapping market—BMW, Audi, and Daimler are not the only automakers it seeks to offer the HERE technology to. Tesla (TSLA), Ford Motor (F), and General Motors (GM) are also developing driverless cars.
Intel looking for new growth outside traditional markets
Faced with declining PC (personal computer) sales and tough competition in the server market, Intel is redirecting its focus to emerging technologies such as the Internet of Things, autonomous driving, and wearable technology. The company has already teamed up with Mobileye (MBLY) and BMW to develop self-driving cars that could be on public roads by 2021.