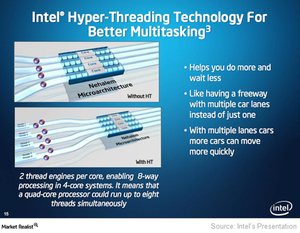 Intel Looks to Boost PC Sales with Hyper-Threading and Compute Card
By Puja Tayal

Jan. 25 2017, Updated 9:05 a.m. ET
Hyper-threading for mid-end PCs
In the previous part of the series, we looked at the PC processors that Intel (INTC) plans to launch in 2017. As performance improvement with every advancement slows, Intel is coming up with innovative ways to offer better performance at different price points. Thus, it has introduced HT (hyper threading) features, which have so far been limited to high-end PCs, to mid-end PCs.
Intel's desktop processor lineup comprises of low-end Celeron processors, mid-end Pentium processors, and high-end Core processors. To justify price points, Intel removed features as it moved down the line. One such feature was HT, which has so far only been available in Core processors. Now, HT is being offered in the seventh generation Pentium processors G4600, G4620, and G4560 as well as the energy-efficient "T" versions.
Intel's HT technology makes each processor core appear as two processor cores to the software, which helps speed up applications and enable the system to handle multiple tasks simultaneously.
Article continues below advertisement
Intel launches Compute Card
As users are reluctant to upgrade their PCs, Intel is trying to come up with innovative ways to encourage users to upgrade. One such innovative solution is its new Compute Card, which is the size of a credit card and can be installed in various certified devices such as PCs, laptops, TVs, and refrigerators.
Features of Compute Card
The card houses an entire system including a CPU (central processing unit), GPU (graphics processing unit), RAM (random access memory), storage, and wireless connectivity (Bluetooth and Wi-Fi). The Compute Card would feature a range of Intel processors including Kaby Lake and come with both USB and HDMI (High-Definition Multimedia Interface) ports. The card would run on Windows or Linux OS (operating system).
Article continues below advertisement
How would a Compute Card work? 
Device makers have to design a slot for a standard Intel Compute Card in their products and select the card as per their requirements and price. Intel is reportedly collaborating with hardware partners such as Dell, Hewlett-Packard (HPQ), Lenovo, and Sharp to install a Compute Card.
Compute Card can change computing
PC makers can replace motherboards with Compute Cards. Users can upgrade their outdated devices just by changing the Compute Card instead of the entire device. This would increase the lifespan of electronic devices. In a corporate environment, companies could provide employees with a Compute Card, and employees could then switch between PCs just by inserting their Compute Card in the device. If this technology proves to be a success, it could make upgrade options more affordable.
However, a Compute Card may not be beneficial for embedded applications that require uninterrupted operation without the need for an upgrade. Next, we'll look at Intel's 5G efforts.