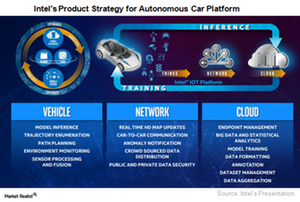 Intel Go Shows How Serious Intel Is about Autonomous Cars
By Puja Tayal

Jan. 26 2017, Updated 10:35 a.m. ET
What is Intel Go?
In the previous part of the series, we saw that Intel (INTC) is looking to tap the virtual reality market to boost its IoTG (Internet of Things Group). The company is also looking to grow in the automotive space in areas ranging from car infotainment to autonomous cars. It aims to leverage its broad asset base to provide an end-to-end AI (artificial intelligence) platform for autonomous cars.
Intel has created a brand for autonomous cars named "Intel Go." The brand will offer hardware solutions such as computer vision, infotainment centers, 5G wireless connectivity, and AI technology as well as software solutions.
Article continues below advertisement
End-to-end AI implementation
Intel Go will offer new developer kits for automakers based on low-powered Atom processors and high-powered Xeon processors supported by Arria ten FPGAs (field programmable gate arrays) for AI. The Atom processor will be for driver assist functions. The Xeon processors will be used to train the platform. This process will be accelerated using Arria FPGAs.
5G connectivity solutions
Intel has developed 5G connectivity solutions under the Go Automotive 5G Platform to provide V2X communication. The 5G technology aims to supply high speed, low bandwidth broadband connectivity to support V-to-X: vehicle to vehicle, vehicle to infrastructure, and vehicle to pedestrian.
Article continues below advertisement
High-definition maps 
Autonomous cars require HD (high-definition) accurate maps. Intel has acquired a 15% stake in Here for two reasons. Here would maintain high-definition maps in the data center and send map updates to autonomous cars based on their location. Apart from autonomous cars, the two companies will also look at other IoT and AI opportunities.
Intel's partnerships
Intel has also partnered with Mobileye (MBLY), Delphi (DLPH), and BMW for autonomous car platforms. Mobileye SoC (system on chip) will run all sensor processing software, Intel SoC will run all driving policy and driving control, Delphi will provide radar/lidar processing and driving behavior software, and Mobileye REM will provide localization mapping.