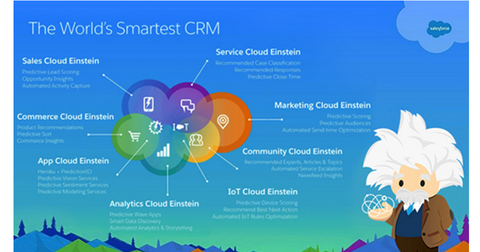 A Look at IBM's Growing Interest in Artificial Intelligence
By Anne Shields

Updated
Artificial intelligence set to dominate
Earlier in this series, we discussed IBM's (IBM) aims to widen the realms of its Strategic Imperatives segment by focusing on marketing, CRM (customer relationship management), and customer analytics. It has increased its focus on AI (artificial intelligence), a consumer-driven technology that enables us to gauge customer sentiment.
AI's natural language capabilities make it possible for human beings and computers to chat and interact in everyday language. ML (machine learning) enables the analysis of huge amounts of real world data to find trends and patterns and make predictions based on those patterns.

Therefore, AI and ML can help companies ascertain whether a customer is likely to opt for a particular offering. This analysis opens the door to higher levels of customer engagement and improved decision making. As a result, we'll see more adoption and integration of AI in the CRM space.
Article continues below advertisement
Will generate significant returns
Citing a Nucleus Research study, Business2community stated that the ROI (return on investment) from CRM could be up to $8.71 for every one dollar spent. Another study done by TrackVia showed that investing in CRM could elevate revenue by 41% for every salesperson.
Another reason for the rising popularity of and investments in AI is the significant cost savings it can lead to. According to Quartz, Japan-based (EWJ) Fukoku Mutual Life Insurance Company believes that IBM Watson's AI will improve its productivity by 30%. The company also said that it plans to replace its 34 human insurance claim workers with the IBM Watson Explorer in January 2017.
Across all businesses, AI is expected to see an increase of more than 300% in investments between 2016 and 2017. The integration of AI with CRM, an integral component of the SaaS (software-as-a-service) space, is expected to provide tremendous growth opportunities.