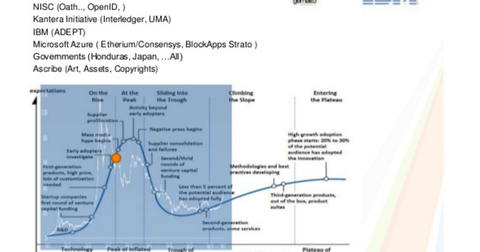 Will IBM's Focus on Blockchain Benefit the Company in 2017?
By Anne Shields

Updated
IBM targeting blockchain technology
We know that after SMAC (social, mobile, analytics and cloud), VR (virtual reality), AR (augmented reality), the IoT (Internet of Things), AI (artificial intelligence), machine learning, and autonomous vehicles are the key areas that are expected to drive the $13 trillion in spending forecast during the next computing cycle. As a result, these are the technologies in which IBM (IBM) will continue to invest in to boost its Strategic Imperatives segment in 2017. IBM took an interest in blockchain technology in 2016.
Article continues below advertisement
Blockchain technology is the foundation of Bitcoin, the world's first decentralized digital currency, also known as cryptocurrency. A blockchain is a simple ledger, operated by a set of algorithms that keep it secure and up to date. Blockchain applications are also referred to as distributed ledger technology. Since they're decentralized, they eliminate the need for a centralized database.
Financial institutions believe that blockchain technology can eliminate inefficiencies in the financial markets. They also believe it can provide enhanced liquidity, transparency, and security. Blockchain technology eliminates the requirement of the intermediary, thereby mitigating the risk of human error with full automation.
IBM's interest in blockchain technology is growing. In collaboration with banks and tech players such as Intel (INTC), JPMorgan Chase, CME Group, and DTCC, IBM is promoting the Hyperledger Project. Hyperledger, a Linux open source project, is a collective effort to accelerate blockchain technology.
In October 2016, IBM (IBM) announced a $200 million investment to develop its Watson IoT headquarters in Munich (EWG) (EFA), focusing on blockchain technology and security. IBM's $200 million IoT investment is part of the company's overall $3 billion investment in the IoT.
Financial and tech sector's growing involvement in blockchain technology
Microsoft (MSFT) is also enticed by blockchain technology. In April 2016, it partnered with R3CV to develop this technology. Before finalizing the partnership with Microsoft, R3CV was in talks with IBM and Amazon (AMZN).
Goldman Sachs (GS) believes that blockchain technology could be used in voting systems, wire fees, firearm purchase background checks, vehicle registrations, and trade settlements. According to CNBC, JPMorgan Chase (JPM) invested approximately $9 billion in the technology space, with a significant focus on blockchain technology.