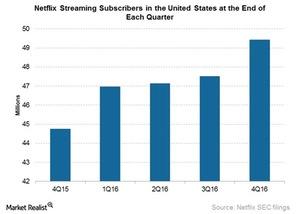 How Would the End of Net Neutrality Affect Netflix?
By Shirley Pelts

Jan. 31 2017, Updated 9:06 a.m. ET
FCC's new chair and rollback of net neutrality
Earlier this week, the Trump administration appointed Ajit Pai as the FCC's (Federal Communications Commission) chair. On January 24, the Wall Street Journal reported that Ajit Pai could steer the FCC towards a deregulatory environment. The report also stated that he is likely to roll back some of the rules and regulations that were passed by his predecessor, Tom Wheeler.
The report said that one regulation that could be rolled back is net neutrality. The net neutrality principle has been a subject of much debate. Net neutrality rules say that all Internet traffic should be treated equally. As video streaming becomes even more popular among Millennials, net neutrality rules are becoming important. Early in 2015, the FCC (Federal Communications Commission) finally passed a rule on net neutrality. The ruling made broadband a utility service in Title II of the Communications Act, which meant that broadband would be regulated like any other utility service.
Article continues below advertisement
Specifically, net neutrality prohibits broadband providers from blocking, slowing down, or even speeding up Internet traffic for any legal applications, devices, content, or services. These broadband providers include cable companies such as Comcast (CMCSA) and Charter Communications (CHTR) and telecoms such as Verizon (VZ) and AT&T (T). The FCC previously formulated open Internet rules, which were rejected twice by the courts. One such loss for the FCC was its 2010 open Internet rules, which were contested by Verizon.
Net neutrality and Netflix
Netflix stated in its fiscal 4Q16 earnings letter to shareholders that if there were a rollback in net neutrality rules, the company didn't expect that it would adversely affect the company's margins, as Netflix believes itself to be popular enough among subscribers for its interconnection agreements with ISPs (Internet service providers) to hold. However, the company did state in its 4Q16 earnings letter that it believes that strong net neutrality rules are necessary to drive "job growth and innovation."
At the end of fiscal 4Q16, Netflix had domestic subscribers of 49.4 million and expects to hit 50.9 million subscribers in fiscal 1Q17.