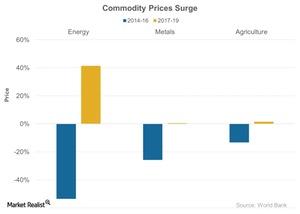 How Do Commodity Prices Affect Growth?
By Mary Sadler

Updated
A look at commodity prices
Commodity prices are set to stabilize since last quarter and expected to recover in 2017. Included are the following three segments:
energy
metals
agriculture
Article continues below advertisement
Global growth picks up as commodity prices stabilize
Since the mid-1980s, there's been a slight positive correlation between growth and commodity prices. The global growth rate for 2017 has risen slightly since commodity prices are on a stability streak.
Last quarter, crude oil prices recovered to pre-2015 levels. The oil market is rebalancing its supply and demand, but global oil inventories are still high. Oil prices averaged $43 per barrel in 2016, which was 15.0% lower than 2015 prices. In 2017, prices are expected to rise about 28.0% to average $55 per barrel. The recent decision of OPEC[1. Organization of the Petroleum Exporting Countries] member nations to curtail output might help prices rise to historical levels.
Commodity prices are expected to rise as markets tighten in 2017. Metal prices have been rising, largely due to increased demand from China as it sees a boost in its property and construction sectors. Agricultural commodity prices have remained stable for a few years and could likely do the same in 2017.
According to the World Bank's January 2017 Global Economic Prospects report, 2016 was a challenging year for commodity-exporting emerging and developing countries. That was mainly due to low commodity prices and weak global trade. As prices recover, these countries expect to expand 2.3% in 2017. Commodity-importing emerging economies are projected to grow 5.6% in 2017.
The S&P Goldman Sachs Commodity Index rose about 20.0% in 2016, with the spot energy index rising 48.0%. The SPDR Gold Shares (GLD) is the largest commodity ETF, with a return of about 8.0% in 2016.
The Energy Select Sector SPDR ETF (XLE) rose about 24.0% in 2016. Its top holdings include Exxon Mobil (XOM), Chevron (CVX), Schlumberger (SLB), and EOG Resources (EOG).
To learn more, be sure to read Richard Bernstein: Global Economic Conditions Are Improving.