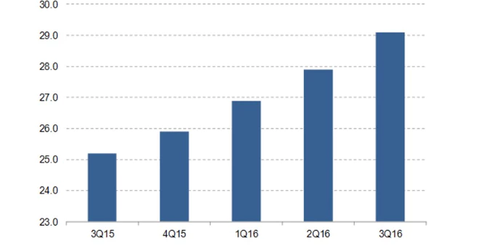 Why Groupon Stock Fell in December 2016
By Adam Rogers

Updated
Groupon stock fell 16.4% in December 2016
Shares of Groupon (GRPN) fell 16.4% in December 2016 to close at $3.32. Groupon stock also fell 4.9% on December 29, 2016, driven by weak sales during the holiday season. Since August 2016, the firm's stock has fallen over 40%. 2016 was a volatile year for Groupon. Shares of the firm were at a 52-week low of $2.15 in February 2016 and rose significantly by over 25% after the firm's 4Q15 results significantly beat analyst estimates.
Article continues below advertisement
The stock fell 20% after the firm announced 3Q16 results in October 2016. In 2016, shares of Groupon rose 8.1% overall. Groupon also made a decision to exit non-core markets. The global operations of Groupon fell from 47 countries in 2015 to 26 countries. Groupon stated that it plans to exit from 11 more markets in the future.
Why Groupon acquired LivingSocial
Recently, Groupon reported that it's acquiring fellow daily deals provider LivingSocial for an undisclosed amount of money. But it's no secret why Groupon is interested in LivingSocial. Since Groupon's aggressive international expansion failed to yield the expected benefits, its new strategy is to focus on dominating the North American daily deals market.
Groupon's CEO, Rich Williams, said the company expects LivingSocial to add ~1.0 million new active customers, perhaps boosting sales for the platform. Groupon added 1.2 million customers in North America in 3Q16, raising its customer base to 29.1 million.
Although it's not clear how much Groupon paid to acquire LivingSocial, LivingSocial was once valued at $1.0 billion. But its valuation has recently fallen significantly. Amazon (AMZN) once invested in LivingSocial. Amazon pumped ~$200.0 million into the business but walked away when things didn't seem to work for daily push deal providers.