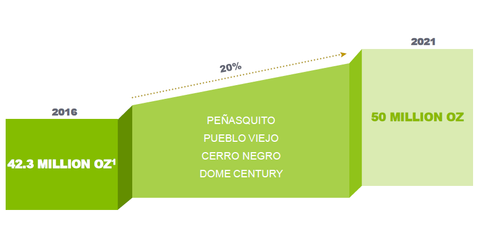 Goldcorp Outlined an Impressive Plan to Grow Its Gold Reserves
By Anuradha Garg

Updated
Sustained production growth
After years of cutting back on sustained capital expenditures, gold miners have started to refocus on production growth as gold prices (GLD) remained buoyant in 2016. Increased exploration and capital expenditure budgets have been the key themes of miners' earnings in 2016. Sustained growth is one of the prerequisites for sustainable outperformance over the long term.
Article continues below advertisement
Gold reserves growth
Goldcorp's (GG) objective is to increase its gold reserves 20% over the next five years. During its investor day on January 17, 2017, the company gave insights into its plan to reach that goal. The company also mentioned that the gold reserves for the industry as a whole have declined for the last three years. The major reason is reduced exploration expenditures by miners in the face of declining precious metal prices.
Growth plan
Goldcorp (GG) plans to increase its reserves from its existing portfolio. The reserves at the end of 2016 totaled 42.3 million ounces. The company is aiming for a 20% increase to 50 million ounces by 2021, net of depletion. It plans to focus on exploration to achieve this with a twofold strategy:
Firstly, exploration should help the company replace its reserves by the conversion of resources. The known mineralization at mine sites are expected to be extended.
Secondly, a pipeline of targets should be developed, which could deliver opportunities for future discoveries.
To achieve this, Goldcorp plans to apply rigorous geological and economic criteria to prioritize targets. It will focus on brownfield targets, which can benefit from the existing infrastructure, thereby increasing returns. The company has identified Dome Century, Peublo Viejo, and Penasquito as the main drivers for reserve growth.
Barrick Gold (ABX) reported a 1.2% fall in its reserves for 2015, which totaled 91.9 million ounces. Newmont Mining (NEM) also reported a 10% decline in its reserve estimates for 2015 at 73.7 million ounces compared to 2014. 
Yamana Gold (AUY) reported a massive 19% decline in reserves in 2015 to 15.9 million ounces compared to 2014. The reserves for Kinross Gold (KGC) were almost flat at 34 million ounces at the end of 2015, compared to 34.4 million ounces at the end of 2014.