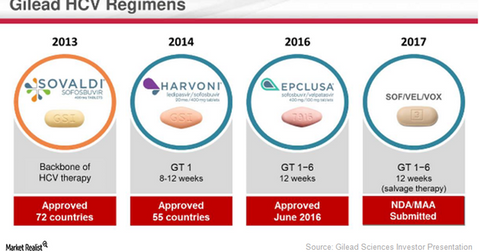 Gilead Sciences Plans to Focus on Its HCV Franchise in 2017
By Margaret Patrick

Updated
HCV franchise
Gilead Sciences (GILD) has developed multiple hepatitis C (or HCV) drugs that can meet the needs of a majority of the patient population. With potent drugs such as Sovaldi, Harvoni, and Epclusa in its portfolio, Gilead Sciences aims to treat the maximum number of HCV patients, irrespective of their genotype and disease severity. The drugs have also found to be effective even when the HCV patients who have other co-morbidities.
Article continues below advertisement
Despite a robust HCV franchise, Gilead Sciences (GILD) has been witnessing a gradual decline in total demand since 2016. If this trend continues in 2017, it may have a negative impact on GILD stock and the Vanguard Total Stock Market ETF (VTI). Gilead Sciences makes up about 0.40% of VTI's total portfolio holdings.
Market leadership
The above diagram shows the regulatory timeline and geographic reach of Gilead Sciences's HCV drugs. Since 2013, ~1.2 million patients in the world have been treated with the company's drugs.
Gilead Sciences competes with other HCV players such as AbbVie (ABBV), Bristol-Myers Squibb (BMY), and Merck (MRK). To learn more about Gilead Sciences's HCV business performance globally, please read How Did Gilead Sciences's HCV Business Perform across Geographies?
On December 8, 2016, Gilead Sciences (GILD) submitted a new drug application (or NDA) seeking approval from the FDA for its combination regimen comprising sofosbuvir , velpatasvir, and voxilaprevir (or SOF/VEL/VOX).
The investigational regimen aims to treat HCV patients who have failed to respond to direct-acting antivirals (or DAA) or who have difficulty being treated with these therapies. While this approval may not translate into a large growth in revenues, it is expected to target the HCV patient population with significant unmet demand.
In the next article, we'll explore Gilead Sciences's NASH franchise in greater detail.