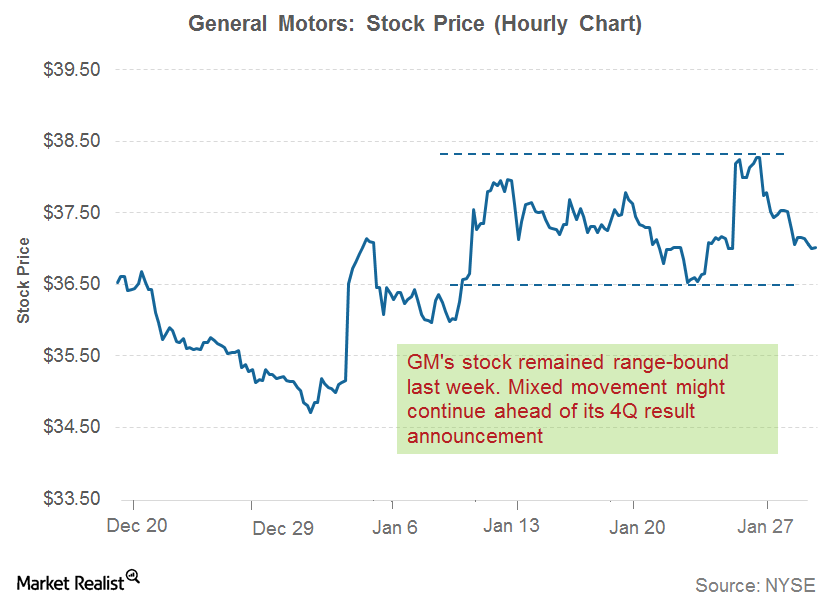 Why Is General Motors Stock Silent before Its 4Q16 Results?
General Motors
Last week, General Motors (GM) stock traded on a mixed note without any change from the previous week's closing. Investors seem to be more cautious before its 4Q16 earnings results on February 7, 2017. Let's find out what to expect from General Motors stock in the week ahead.
Article continues below advertisement
Cautious approach
In the last few quarters, General Motors, the largest US automaker (IYK), surprised the market by beating analysts' earnings expectations. The company managed to improve its profitability more efficiently than its peers such as Ford (F), Fiat Chrysler (FCAU), and Toyota (TM) by focusing on retail vehicle sales. Last year, General Motors started exploring possibilities in other businesses such as on-demand mobility and ride sharing.
Last week, Ford highlighted the potential risk that it might face during fiscal 2017. Some of the risks point towards the possibility of weakening US auto sales. A slowdown in US auto sales could also hurt General Motors among other mainstream automakers. It could be the primary reason why investors are approaching General Motors' 4Q16 results with caution.
What to expect this week?
As of January 27, General Motors stock is trading at $37.01. Last week, it tested a key resistance level near $38.20. However, due to the lack of a positive trigger, the price turned negative again. During this week, we can expect $38.20 to continue acting as a stiff resistance.
On the downside, the price might find immediate support near $36.60. A fall below this level could attract renewed selling pressure in the stock. Investors might continue to be cautious before its 4Q16 results.
In the next part, we'll look at Ford's technical price level for the week ahead.