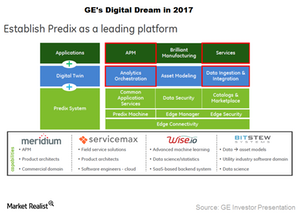 General Electric Is Eyeing a Big Slice of the Software Pie
By Samuel Prince

Updated
GE inches toward the digital dream
On January 10, 2017, General Electric (GE) completed its acquisition of ServiceMax, a leader in cloud-based field service management solutions, for $915.0 million. The move is essentially a step forward in terms of the company's digital dream.
As we discussed in the first article, GE aims to achieve industrial software sales revenue of $15.0 billion by 2020.
Article continues below advertisement
Predix: A flagship platform
Predix is ServiceMax's cloud-based platform for the industrial Internet. The company developed the platform at its San Ramon facility in California. It had its first developer conference in Las Vegas in July 2016, during which it may have hinted at its future course of action.
The Predix Machine software allows the Predix cloud to communicate with a physical asset such as a jet engine (BA). The Predix connectivity service allows machines to communicate through satellite technologies via the Predix cloud in the absence of a direct Internet connection.
General Electric has forecast orders of over $8.0 billion for this digital industrial software. Out of its forecast orders for 2017, more than $5.0 billion are expected to come from Predix-powered and related software. 
Accelerating the adoption of Predix through building scale remains one of GE's top priorities for 2017. The company is also focused on growing its recently acquired APM and Additive Manufacturing segments in the current year.
How GE plans to achieve this growth
There were roughly 20,000 software developers working at General Electric at the end of 2016. The company aims to take this number to over 35,000 in 2017, representing a rise of 75%. 
GE had over 300 partners in 2016, a number the company plans to expand to 500 in 2017. The company plans to take its Predix-powered orders from $300.0 million in 2016 to $1.0 billion in 2017.