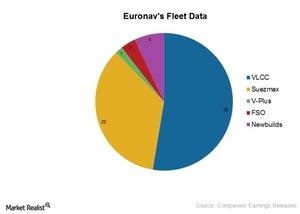 Fleet Updates for Euronav in 4Q16
Long-term contract
On October 3, 2016, Euronav (EURN) signed a long-term time charter contract with Valero Energy. The contract is for seven years and will commence in 2018. To fulfill the contract, Euronav has ordered two Suezmax vessels. They will be delivered in early 2018, just before the contract commences.
Article continues below advertisement
Delivery deferred
Euronav's two VLCCs (very large crude carriers), the Ardeche and Aquitaine, were expected to join its fleet in October and November 2016. The company deferred the delivery of these rigs until January 12 and January 20, 2017.
Refinancing
On December 16, 2016, Euronav signed a new revolving credit facility of $410 million, primarily to refinance its 11 vessels.
Article continues below advertisement
Floating storage and offloading units
Whereas Euronav has two FSO (floating storage and offloading) units, peers Teekay Tankers (TNK), Nordic American Tankers (NAT), Tsakos Energy Navigation (TNP), DHT Holdings (DHT), and Frontline (FRO) do not. Euronav and joint venture partner International Seaway secured a five-year contract for its two FSO units. The new contract is expected to generate $360 million.
Sale and lease back
Euronav entered into a sale and leaseback agreement for its four VLCC vessels, the Nautilus, Navarin, Neptune, and Nucleus. According to the agreement, the sale price is $186 million, which resulted in a capital gain of $36.5 million. The sale price generated $100 million in free cash after repaying debt. The leaseback transaction is recorded as an operating lease, and the lease is for five years at an average rate of $22,000 per day, per vessel.