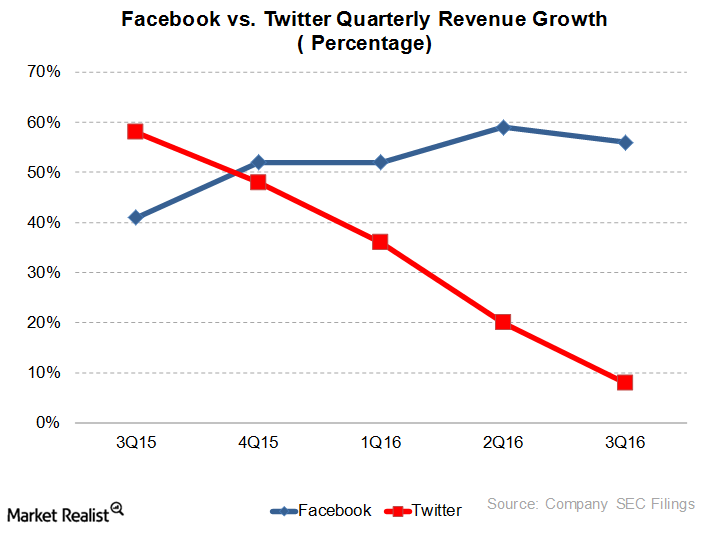 Facebook May Have Done What Twitter Needed to Do
By Ruchi Gupta

Jan. 3 2017, Published 2:54 p.m. ET
Facebook introduces live audio streaming service
Facebook (FB) is testing a new feature that supports live audio streaming, expanding its Facebook Live platform, which already supports live video streaming. The company is initially testing its audio broadcast feature with a limited number of pre-selected users and it plans to roll it out more broadly in early 2017.
BBC and Harper Collins are some of the partners Facebook has selected to test its live audio broadcast feature. Facebook is aiming the feature at interviewers, authors, and broadcast radio-like services.
Article continues below advertisement
Facebook's audio move is a setback for Twitter
Faced with stagnating user growth and tepid interest from advertisers, Twitter (TWTR) perhaps needed a live audio streaming feature more than Facebook to improve its fortunes.
Given Facebook's strong revenue and subscriber growth as exhibited in the latest quarter, the company isn't short of features that can pull users and advertisers to its platform. The audio feature is likely to boost engagement on Facebook, which is vital for attracting and retaining advertisers. Thus, Twitter could face a complicated future if Facebook's live audio broadcast triggers subscriber and advertiser outflow from its platform.
Perhaps if Twitter owned the live audio feature and combined it with its live video service, the platform would be more attractive to users and advertisers.
Streaming audio should be easy
Facebook says it should be easier to live-stream audio than video using its new feature because audio files are typically small. Perhaps the release of the audio broadcast feature is another strategy by Facebook to popularize its social media service and boost engagement on the platform among users in regions still afflicted by poor Internet connections that make it difficult to stream video.
Facebook, Twitter, and Alphabet's (GOOGL) Google have stepped up their campaigns for video advertising dollars against traditional pay-tv providers like Comcast (CMCSA) and Time Warner (TWX).